233 Old Fashioned Baby Names For Boys And Girls
In case grandpa's name won't do, here are some of the best old-school baby names.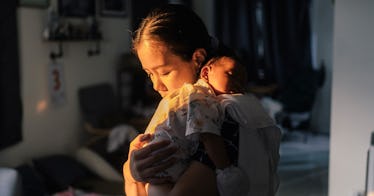 There's a good reason so many people name their children after a favorite grandparent or great aunt. Besides the sentimental factor, old fashioned baby names (for both girls and boys) have stood the ultimate test of time, appealing to parents across generations. Foregoing trends, old fashioned baby names never go out of style, instead giving the first impression of someone wiser than their years. They're charming and distinctive, but not too obscure. And perhaps most importantly, unlike infinity-symbol tattoos or gender reveals, old fashioned baby names age well. From classic names for girls to old-timey names for boys, these old fashioned baby names have stood the test of time.
Old Fashioned Girl Names
Abra
Addison
Adeline
Adelaide
Agatha
Agnes
Alejandra
Alice
Alma
Amara
Anita
Bea
Bernadette
Beatrix
Bertie
Bessie
Birdie
Blythe
Bonnie
Calliope
Camille
Carole
Colette
Connie
Celia
Clara
Dahlia
Daisy
Darcy
Dessie
Dodie
Dora
Doris
Dorothy
Edith
Enid
Etta
Eleanor
Elaine
Ellis
Emily
Emma
Ethel
Eugenie
Evelyn
Faye
Florence
Gabrielle
Galatea
Genevieve
Georgia
Gertie
Greta
Harriet
Hattie
Hazel
Hilda
Irene
Imogen
Inez
Jane
Joan
Josephine
Joyce
Katherine
Laura
Lucille
Lucinda
Luisa
Lorraine
Lydia
Lacy
Liza
Margaret
Martha
Marjorie
Mathilde
Maxine
Miriam
Minnie
Mollie
Nora
Octavia
Olive
Opal
Patricia
Pearl
Penelope
Polly
Pollyanna
Posey
Rolla
Rosemary
Ruth
Sadie
Sandra
Scarlet
Selma
Seraphina
Shirley
Shoshana
Sussanah
Sylvia
Trudy
Una
Valentina
Vera
Virginia
Viola
Violet
Willa
Wren
Old Fashioned Boy Names
Abe
Abraham
Albert
Ambrose
Amos
Ansel
Archie
Aron
Arthur
Artie
Atticus
August
Barron
Beau
Benedict
Bennett
Bernard
Blaine
Blevins
Brady
Carlo
Cassady
Clarence
Clellon
Clifford
Cole
Cornelius
Cyrus
Damion
Dean
Earl
Edison
Edmund
Erwin
Edwin
Elijah
Elmer
Elrod
Elon
Emmett
Emile
Ernest
Ezra
Frank
Franklin
Francis
Gael
George
Gerald
Gert
Gracy
Gunther
Gus
Harmon
Harold
Harper
Harvey
Hayden
Hector
Henry
Herbert
Holden
Howard
Hugh
Ian
Jasper
Jarrett
Jedediah
Joel
Julien
Kenneth
Lacey
Langston
Lee
Lincoln
Louis
Lucas
Marshall
Mickey
Milton
Morgan
Neal
Nelson
Neville
Norman
Orville
Oscar
Otis
Owen
Peyton
Pierce
Presley
Preston
Ralph
Randall
Rawlins
Raymond
Reed
Reginald
Richard
Rodney
Rollo
Roy
Rutherford
Sal
Shadrack
Sherman
Spencer
Stanley
Sterling
Theodore
Tobias
Tobin
Waldo
Whitman
Wilber
Willie
Winston
Windsor
Wright
Wyatt
This article was originally published on