21 Simple Ways to Keep Your Unvaccinated Kid Safe Right Now
Avoid the emergency room at all costs.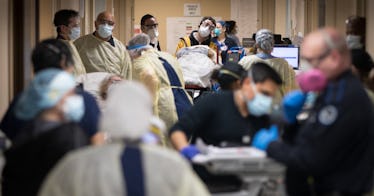 Newsday LLC/Getty
Omicron is overwhelming emergency rooms and hospitals across the country. Over the past week, an average of 20,269 people per day were newly hospitalized with COVID, according to the Centers for Disease Control and Prevention. This is the highest number of the COVID-19 pandemic so far. And it means that people who need to go to the hospital for non-COVID reasons are going to face massive delays, and some may even be turned away. So now is just about the worst time for your child to break into your medicine cabinet, run their head into a table, or stick a finger in an electrical outlet.
Each year, 9.2 million children have to go to the ER because of an unintentional injury. Luckily, many of the accidents that hurt kids are preventable with a bit of neurotic vigilance. These precautions are often cheap, simple, and can stop freak accidents from sending your kid to the hospital at the most inconvenient moments imaginable. Because it's always a good idea to childproof your home, but it's particularly smart to do during a COVID surge.
Listed below are 21 easy ways to reduce your child's risk of accidental poisoning, suffocation, burns, and more.
1. Anchor Your Furniture
Tipping over bookshelves, dressers, TVs, and other pieces of furniture can squash kids and cause serious injury. In fact, they send 15,000 kids to the ER per year. This list from the Academy of Pediatrics has tips on how to anchor your furniture.
2. Install Plug Protectors
Get rid of any chance of your toddler sticking their fingers in sockets and getting electrocuted by installing plug protectors. Make sure they're child-tamper resistant, because up to 100 percent of 2-year-olds can remove some types of plug protectors that aren't specifically designed to be resistant to little fingers tugging at them, according to research from Temple University.
3. Install Window Stops or Guards
Window stops and guards prevent children from taking a tumble out of windows, particularly from upper story floors. About 4,000 kids age 10 and under require treatment for injuries related to falling out a window each year, according to Stanford Children's Health.
4. Cook on Back Burners and Remove Stove Knobs
Five people experience a stove-related injury every hour, and about 41 percent of injuries are in young people aged 19 or younger, according to a 2013 study. Kids are less likely to be able to reach up and burn themselves or start a fire when you cook on your stove's back burners. Keep pot and pan handles turned back toward the wall so they don't pull hot liquid or foods down onto themselves. When not in use, remove stove knobs or place a cover over them so your kids can't turn on the stove without your knowledge.
5. Don't Go Down Slides With Your Kid
If they're not old enough to go down the slide alone, they shouldn't be going down it at all. Sliding with a child on your lap puts them at risk of a leg fracture, according to research from the American Academy of Pediatrics.
6. Don't Store Firearms at Home
Keeping firearms out of the house is safest. But if you do have one at home, keep it unloaded and locked up. Lock the bullets up in a separate location. Accidental gunshot deaths caused by children have increased during the pandemic. From January to the end of August 2021, children have caused 259 accidental shootings, ending in 104 deaths and 168 injuries, according to research from the advocacy group Everytown for Gun Safety.
7. Hide Your Stash
As weed becomes legal in more places, kids are getting into their parents' stashes more often, and edibles are a major culprit, much research has shown, including a new study in JAMA Network Open. Many of the kids who experience marijuana poisoning need to go to the ER (call poison control if you're unsure). So go get a lock box, and be diligent about using it.
8. Lock Away Medicine, Cosmetics, and Cleaning Products
Anything that your child could potentially ingest and get poisoned from, lock it up, ideally in a place that your kid can't reach. Be especially wary of cosmetics and personal care products, which are the reason for most Poison Control calls for children younger than 6 — more than 109,000 in 2019. Cleaning products are responsible for the second highest number of calls, accounting for nearly 101,000 for kids in this age group, according to Poison Control.
9. Cover Furniture Corners
Kids tend to run around houses. The less of a chance of them falling and banging their heads into a sharp table corner, the better. An old study found that when it comes to ER visits for furniture-related injuries, coffee tables with sharp edges are usually involved.
10. Use Cordless Window Blinds
Window blinds that require you to pull a cord down to move them are a strangulation risk. One study found that over a 26-year period, almost 17,000 kids went to the ER for injuries from window blinds, and 271 died, CBS reported.
11. Install Door Stoppers
Prevent fingers from getting slammed in closing doors with door stoppers. A report from the British Association of Plastic Reconstructive and Aesthetic Surgeons found that 50,000 children and toddlers slam their fingers and hands in doors each year, and more than 1,500 require surgery.
12. Hide Your Plastic Bags
About 25 kids suffocate with plastic bags over their heads each year, according to the U.S. Consumer Product Safety Commission. Keep them out of reach.
13. Screw Battery Compartments Shut
A 2012 report from the Centers for Disease Control and Prevention found that between 1997 and 2010, more than 40,000 kids were treated in the ER for battery-related injuries. Battery compartments should be screwed shut to prevent kids from accidentally obtaining and ingesting the batteries. Store unused batteries out of reach, and be especially wary of button batteries.
14. Don't Use Tablecloths
Saint Luke's Health System warns that kids could tug at the tablecloth and pull heavy objects onto their head. Seriously.
15. Gate Your Kitchen
The kitchen is full of hazards. Two-thirds of home fires start in the kitchen, and 350,000 people are injured by kitchen knives each year, according to Beaumont Emergency Hospital. If the setup of your home allows for it, gate your kitchen to prevent your child from getting into mischief.
16. Check Your Oven Door
A 2001 study found that over a five-year period, 14 kids were burned by oven doors bad enough to go to a burn referral center, and half of those kids were burned by the exterior of the oven. To prevent oven door burns, turn off the oven immediately after using it, close the oven promptly after removing or putting in food, and check the exterior temperature of the oven door to ensure it's not too hot.
17. Latch Your Toilet
As ridiculous as it may sound, the risk is real that your kid could stick their head in the toilet, tip over, and drown. Cheap and simple latches can prevent this. Each year, about 115 kids drown in the home in non-pool water sources, including toilets, bath tubs, and buckets, according to the Consumer Product Safety Commission.
18. Keep Your Hot Water Heater at 120°F
Or keep it even lower, to prevent scalding. Between 2013 and 2017, more than 78,500 children aged 4 and under visited the ER for scald burns from household appliances, according to the American Burn Association. Kids' skin is more sensitive and can burn easier than adults' skin. If you can't control your hot water heater temperature, use an anti-scald device on your sinks and tubs.
19. Place Non-Skid Mats in the Bathroom
Use them on the bathroom floor and in the tub to prevent falls on slick ground. An estimated 51,132 kids under age 15 were treated for non-fatal bathroom-related injuries in emergency departments in 2005, about nearly 74 percent of those injuries were due to falls, one study found.
20. Limit the Trampoline to One Kid at a Time
Each year, about 100,000 kids are injured by jumping on trampoline, and three-quarters of these injuries occur when more than one child is jumping at a time, according to the Cleveland Clinic. So if you have a trampoline, limit use to one kid at a time. Or, to be as safe as possible, just don't get a trampoline.
21. Do Yard Work Solo
Keep the kids inside when doing yard work, especially when mowing the lawn. About 9,400 kids are injured by lawnmowers each year, according to a 2019 study reported on by Reuters.
This article was originally published on