Practical COVID Precautions for Partially Vaccinated Kids
Treat your child as if they're still unvaccinated.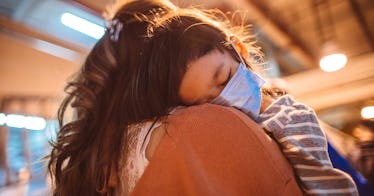 With the Pfizer vaccine approved for children aged five to 11, many have already received their first dose. However, they won't be fully vaccinated – or two weeks after their second dose – until the first week of December at the earliest. Finally being able to get your child vaccinated is a relief, but the weight off your chest doesn't mean your kid can take the mask off their face yet. You and your kid probably both have COVID fatigue by this point in the COVID-19 pandemic, but when it comes to your partially vaccinated child, you shouldn't throw caution to the wind just yet. So until they're fully vaccinated, how should you think about your child's COVID risk – especially when it comes to large gatherings such as Thanksgiving?
"I would consider them as if they're unvaccinated," Anna Meyer, MD, PhD, a pediatric immunologist at National Jewish Health, told Fatherly. "I really still consider these patients not protected fully." Meyer recommends following all the precautions you would have if your child had not received a single dose of the vaccine.
Why is that? Well, the Pfizer vaccine hasn't been tested for its efficacy after one dose, so experts don't know how effective a single shot is at preventing COVID infection, hospitalization, or death.
Of course, partially vaccinated children do have some protection because immunity mounts over time. "Even a single dose for your kid 10 days prior is an incredible safeguard," Michael Mina, MD, PhD, an epidemiologist at the Harvard T.H. Chan School of Public Health, tweeted last week.
And remember, most children aren't at a high risk of severe COVID complications anyway. So although you should consider your partially vaccinated child as unvaccinated in terms of the precautions you'll take at Thanksgiving, your worry level doesn't need to be as high as it was pre-vaccine.
Practical COVID Precautions for Thanksgiving
Let's be honest: Masking at your Thanksgiving party probably isn't going to happen. You don't want to have to focus on COVID the whole time you're visiting with family. So the precautions you do take need to be both practical and effective. These are Meyer's top recommendations:
Monitor for symptoms: If you or anyone in your family is experiencing COVID symptoms, stay home. Ask the others in your party to do the same. And if your cousin can't stop coughing when you chat on the phone the day before the big celebration, it may be time to make the call and skip out.
Mask while traveling: When at a bus station or airport, you hardly know anything about the vaccination status or symptoms of the travelers around you. Whether it's mandatory in these locations or not, wear a mask. If you need to eat or drink while travelling, pull your mask up between bites and sips.
Get a rapid test: If you can find an at-home COVID rapid test, use it. The best time to test yourself and your kids is right before getting together for Thanksgiving dinner. If you test negative, it's not a guarantee that the result is true because these tests generally only detect higher levels of virus, but a negative result can help you feel a bit more secure. Of course, getting tested only prevents you from spreading COVID to others, so encourage everyone coming for Thanksgiving to get tested too.
This article was originally published on