Men Are Lagging in Vaccination Rates. They Can't Afford to Be.
Men are more vulnerable to COVID. They're also less likely to get the vaccine. What gives?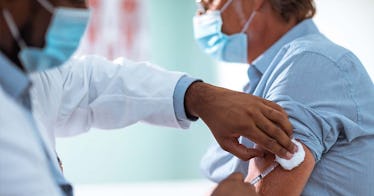 All adults in the U.S. are now eligible
for the COVID vaccineThe vaccines are safe, highly effective, and backed by science. But not everyone is rushing to schedule their appointments the way they should. Men, to lump together one large demographic, are showing hesitancy to getting vaccinated. That's an issue for their own health and the health of their families and communities. In other words, their inaction puts everyone else at risk of the COVID-19 pandemic.Of course, many men have been getting vaccinated. But as a whole, men are falling behind on vaccination rates. As of early April, more women were vaccinated than men in all 38 states that break down shots by gender, according to an analysis from Kaiser Health News. In those states, women usually make up about 60 percent of the vaccinated population and men about 40 percent.Some of this difference isn't men's fault. When COVID vaccines first became available, only healthcare workers and elderly people in nursing homes were eligible to receive them. Because women have a longer life expectancy, they make up the majority of those who are 70 or older, and 76 percent of full-time healthcare workers are women. In other words, women had a jump start in getting vaccinated.But as the vaccine became more available, men continued to lag behind. Some states report gender differences in vaccination over time, and the gap has narrowed in recent weeks, but it hasn't even come close to disappearing, according to the Kaiser Health News analysis. In Rhode Island, for example, 65 percent of women and 35 percent of men were vaccinated in mid-December. In late March, 59 percent of women and 41 percent of men were vaccinated.Experts have proposed various explanations for men's vaccine hesitancy. Women usually schedule their family's medical appointments, so men may be less familiar with how to work the healthcare system. Women have lost a million more jobs than men during the pandemic, according to data from February, so they may be more eager to end it. And women usually take on more caregiving roles, so they may be more likely to get vaccinated to protect those they care for.Another, now-dominant theory has also emerged: Toxic masculinity is keeping men from getting vaccinated. We saw this earlier in the pandemic with men refusing to wear masks. Now some guys think they're tough enough that they'll be fine if they get COVID, so they won't get the shot.This isn't surprising. Time and time again, men are less likely to seek healthcare. About 53 percent of men aged 75 and under get the flu vaccine each year compared to 63 percent of women. A small 2019 study found that straight religious men underutilize healthcare because of masculine norms and male gender roles. Men with strong beliefs in traditionally masculine ideas are half as likely to seek preventive care as men with moderate beliefs in masculinity.The truth is, men are more vulnerable to COVID. Men and women are infected at approximately equal rates, but men make up 53 percent of hospitalizations, 64 percent of ICU admissions, and 56 percent of deaths, according to Global Health 50/50 Data Tracker.For many months, those who were eager to get vaccinated have been clambering for appointments. But now that 63 percent of the adult population has received at least one dose, the initial rush is slowing down. Even with children age 12 and up now eligible, the daily vaccination rate has been steadily dropping since early April. Why? Those who remain are largely vaccine-hesitant. And for a sizable chunk of those people, it's because of their gender. If the vaccination rate keeps declining, communities are going to have difficulty reaching herd immunity. And without herd immunity, the return to normalcy will be slower. A lot of vaccine-hesitant people need to change their minds to turn this trend around.If you haven't been vaccinated, go do it. If you have been vaccinated, go talk to the vaccine-hesitant about it — whether it's your dad, your brother, your neighbor. After all, people are more likely to listen to information about the vaccine when it's delivered by men.Having these conversations can be awkward. But to reach herd immunity, it will take a group effort. Your responsibility doesn't end at getting your shot.