What It's Like to Be a Professional LEGO Designer
We spoke to one of the masterminds behind the Ninjago line about designing sets from scratch and how he landed the job.
by John Patrick Pullen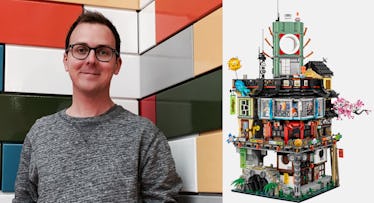 Twitter/simonlucas80; LEGO
As Simon Lucas sees it, he's a lucky man. We'd agree. We'd also call him hardworking and dedicated, and someone who made a career out of his passion: building Legos. A Lego fan since childhood, he grew up — like most of us — clicking together those plastic bricks ("I used to be a Lego pirates kid," he says. "I loved the boats.").
RELATED: Now You Can Have Your Entire House Recreated in Lego
But while most of our career paths led to a decidedly less fun day job, Lucas's wandered through a delightful forest of product design, ultimately leading him to Lego world headquarters in Billund, Denmark. Now, a senior creative director at the company, he's not only responsible for designing many of the must-have playsets on your kid's holiday list, but also for conceiving all the crazy characters, vehicles, and buildings that come out of the world's most famous toy brick factory.
ALSO: Life-Size Legos Are Now A Thing That You Can Buy
So, is it any fun spending your days up to your knuckles in Legos? Take a guess. "You know how you meet someone, and they don't really like their job?" says Lucas. "I've never really experienced that. I love Lego. I've loved it since I was a kid."
MORE: The Best Lego Accessories to Make Your Bricks Bend, Fly, and Move
Fatherly spoke to Lucas about what it's like to play with Lego for a living, the process of toy development, and the largest Lego build he ever assembled.
So, what's your job really like?
When I first started, I was as a senior designer and spent my days creating and building models from scratch. We'd try to figure out what's the best model we can build, how are kids going to play with it, and what are they going to enjoy. Now I lead design teams and oversee the creation of the models, as well as decide what the product lines will actually be.
How did your career path lead you to Lego?
I've been at Lego just shy of seven years now. Before that, I was living in the U.K. and worked at a number of design consultancies creating products for kids. One example, I made a pair of scissors for an American brand called Acme. Which gave me some good experience building an actual physical product. I also helped design a child's push chair for the brand Mamas and Papas. I also spent time working for a big English footwear company called Clarke's. In the U.K., they're the largest kid's footwear brand, and they have very similar ethos to Lego. I got all sorts of good children's design experience there.
What are some of the sets you personally worked on or designed?
When I first started, I joined Lego's Bionical team. They're action figures, so it's not your core Lego experience. From there I designed characters on the Hero Factory line. Finally, I transitioned into traditional Lego bricks and worked on Castles. The last Castle Line we put out in 2013, Lego fans may remember, with a big, plastic Lego castle, and all the knights and dragons. I've also led the Ninjago project since 2012.
How do you come up with the ideas for your various sets?
You often start with something iconic. For example, with the Castle line you have to have the knights, you have the castle, bad guys, etc. They usually like to capture some gold, so you build a world around that. With something like Ninjago, similarly, we started with the idea of ninjas. We just thought, that's a cool area nobody's paying attention to right now. And every time we showed kids different characters, they liked the ninjas. In a kids' eyes, they are a really well-trained, awesome hero. So we wanted to build a world around that but with a Lego spin on it, add a fantasy element. We gave them elemental powers and just launched the Ninjago world.
That said, we always start with a simple, initial concept. We do one key visual, where it's a very simplistic story, and sit down with kids to see what they think. We often find if kids understand that story, that's one thing. But it's when they start telling their own stories — he can go and do that, and this guy is best friends with that guy — that's a really good sign. That's what we want. We want to spark their imagination. And that's how we know there's huge scope in this world, and we can create more fun things.
What's the process of developing/designing a Lego set?
We have all the bricks at our headquarters in Denmark. So, that's a good starting point, that free creativity. Our design team is very mixed. It includes people from very different creative backgrounds who are also — and I mean this in a very nice way because I include myself in it — a bunch of geeks. We're into popular culture, and we are inspired by everything from movies to comics to literature. The knowledge of popular culture within that building is incredible. That just inspires and helps us come up with these new things.
When they build their concept models, sometimes the models might be a little crazy and out there, but we always ask kids, "Is this Ninjago? Does this fit into that world?" And sometimes they reply, "No. That's weird." Nothing can prepare you for hearing a child tell you, "That model is terrible."
Do you have a favorite Lego set?
The Ninjago movie line has been a career high for me. Ninjago City, which is the biggest Ninjago set we've ever made, that's a section of the city you'll see in the movie. It gets a universal 'wow' from children and adults. In fact, I just built that one myself to have at home. That's probably my favorite set that I've ever been involved. That or the new Destiny's Bounty. That model ticks all the boxes of what I wanted in the boats when I was a kid.
Now, as someone on the inside, we figure you have some serious building chops. What's the largest model you've personally assembled?
The Ninjago City. It's about 4,967 pieces. It's not the largest Lego model ever. We just got absolutely eclipsed by our Millennium Falcon, which is close to 8,000 pieces, but it's certainly the biggest model I've ever been involved with.
Finally, what's worse than stepping on a Lego?
Probably the expletives that come out of your mouth after you step on one. It's a natural reaction to curse. Lego bricks are painful.
This interview has been edited for brevity and clarity.