Every parent knows that stepping on a LEGO hurts like a motherf—er. Nothing new there. Science even explains why they're so painful — unforgiving plastic, sensitive foot exteroceptors, etc. But what science fails to explain is why it took somebody so damn long to invent a pair of LEGO-proof socks. Doesn't matter, they have! They're called Skinners. Science, you're forgiven.
They're not designed to just protect your feet from tiny plastic bricks — they're also resistant to broken glass! Actually, Skinners are lightweight shoe-socks with a thin grippy rubber sole for sporty people who do sporty things. Things like biking, yoga, hiking, camping, even running a marathon (over broken glass). Hey, it's no stupider than those glove shoes people wear on their feet.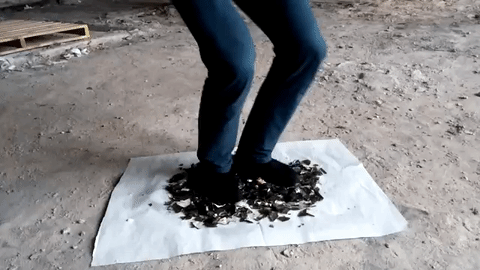 In terms of design/materials, this shoe sock brags about the same things most athletic-wear companies do: advanced cooling threads, mesh ventilation zones, enhanced toe protection, and a waterproof "anti-abrasive polymer" sole. They're also anti-bacterial (so they don't stink) and can go in the washing machine with the rest of your sweaty gym clothes. All the things your gold toes can't.
The other pitch is that they're more portable than a second pair of shoes. Roll them up with an elastic tie and carry them in your pocket. Skinners raked in over $1.2 million on their Indiegogo campaign. And while you can pre-order today, you're going to have to keep dodging LEGOs in the living room for a couple of more months — they don't ship until March.
(Pre-order for March)