The Best Car Seat Stroller Combos For New Parents
by Elizabeth Alterman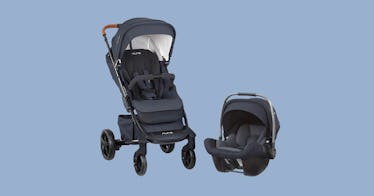 A car seat and a stroller are the two most important investments you'll make as a parent. When you buy a baby car seat and stroller system, you take most of the guesswork out of the purchase because the two are meant to seamlessly work together. You simply click the car seat into a base in your vehicle and then, just as easily, transfer it to your travel system stroller. It's magic. An even more magical feature of baby strollers with car seats: If your darling child is asleep, you can move the infant from the car to the without the risk of waking him or her up.
The name of game here is ease of use. You want a car seat that easily attaches to the stroller, without requiring any acrobatics or pricey tools. And of course, you need a car seat that's on the list of those approved by the American Academy of Pediatrics, which all of these are. Another thing to keep in mind is the weight limit of the stroller, which usually hovers at around 50 pounds. You want to get as much use out of it as possible. The options on our list all have an easy fold, as well as sizable storage baskets. The rest, from fabrics to color schemes, is a question of taste.
Every product on Fatherly is independently selected by our editors, writers, and experts. If you click a link on our site and buy something, we may earn an affiliate commission.
This article was originally published on