7 Best Lightsaber Toys for Star Wars-Loving Kids and Parents
Only the most elegant Jedi weapons for civilized families.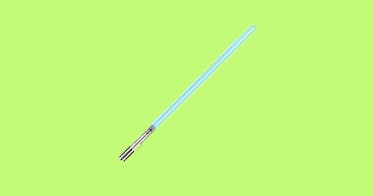 You've watched all of the Star Wars movies in the right order. And you explained the meaning of the Dark Side to your junior Jedi while telling a Star Wars joke or two. But the stories don't end when the credits roll. Being a young Star Wars fan means pretending you're fighting for the Rebels in a galaxy far, far away. And that means that a realistic Star Wars lightsaber toy is an absolute must. Luckily, the best lightsaber toys today are a lot better than the kids' lightsabers that were around in the late '70s.
Vintage Star Wars junk is pretty rad, for the most part. But old-school lightsaber toys suck. They're lightweight, cheap, and, considering they're decades old at this point, at imminent risk of destruction in hands of a rambunctious Skywalker cosplayer. Thankfully, the steady stream of Star Wars content means there is a renaissance of the best lightsaber toys and props is happening right now. There's never been a better time to buy a more elegant weapon for a more civilized age…and then lightsaber-fight with your kid until bedtime.
But which lightsaber toys are the best? Which are the worst? Here are seven from all different price points, for various ages, all which will make you a true master of the Force.
Every product on Fatherly is independently selected by our editors, writers, and experts. If you click a link on our site and buy something, we may earn an affiliate commission.
This article was originally published on