The 12 Pieces Every Kid Needs at Primary Clothing
Why aren't all kids clothes gender-neutral and primary-colored?
by Donna Freydkin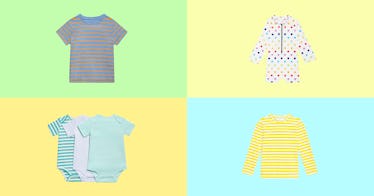 Children's clothes used to fall into one of two categories: cheap junk emblazoned with trite phrases proclaiming a love of baseball or unicorns or daddy, or fancy togs that generally required the services of a dry cleaner. Inexplicably, there wasn't much of a middle ground. And then came Primary, a brand founded by two Diapers.com veterans and moms who couldn't find quality kids' basics. Primary's clothes have struck that necessary yet elusive balance: its hoodies, pajamas, onesies, and leggings are ridiculously well made but still affordable, can be worn by either gender, and are trend-proof.
The colors all go together, as do the styles. Even better: The key pieces stay in rotation, so you don't need to buy 73 pairs of the same sweats in different sizes because you suspect that in three months, the company will retire that style. The clothes are tag-less, which isn't something you think about until your kid decides to start thrashing when their skin comes into contact with one. The colors are vibrant without being twee. And the stuff lasts for years, or at least longer than your kid will fit in them. The quality is that good.
Every product on Fatherly is independently selected by our editors, writers, and experts. If you click a link on our site and buy something, we may earn an affiliate commission.
This article was originally published on