The Nerf Super Soaker Soakzooka Is a Water Gun Worthy of Its Incredible Name
Looking for the most badass water gun around? Look no further.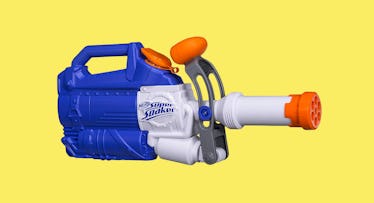 Kids are small people who like big things. Whether it's a dollhouse or a dinosaur, bigger toys are often more exciting, and water guns are no different. That's why the Super Soaker Soakzooka, a massive water blaster from Nerf, is such a slam-dunk choice when you're on the hunt for a water gun.
Besides its drenching ability and honestly incredible name, what makes the Soakzooka different is how you use it. It's designed to be held at the hip, with a hand on each of the two top-mounted handles, because the tank gets pretty heavy when held. It's too heavy to hold like a traditional water gun, though still light enough for kids as young as seven to wield comfortably.
The key to operating the Soakzooka is that front handle. Instead of a classic pump-and-trigger system, Nerf simplified the design. To fire a monsoon at their siblings and friends, all your kid has to do is move the handle back and forth. No trigger necessary.
A blaster that can fire this much water at once would be useless without an ample water tank. After all, there's nothing worse than having to reload mid-water war. Thankfully, the Soakzooka has a 1.6-liter tank located near the rear. The tank is easy to fill thanks to a large opening that's tilted upward, with a cap that cleverly flips up instead of unscrewing so there's no chance of it getting lost in the heat of aquatic battle.
We're not saying it's the smallest, easiest to handle water gun out there. But if your kid (or, let's be honest, you) just wants something to drench everything and everyone you set your sights on the Soakzooka is an excellent choice.
Every product on Fatherly is independently selected by our editors, writers, and experts. If you click a link on our site and buy something, we may earn an affiliate commission.
This article was originally published on