These Field Jackets Are Made for Cool Mornings
They're the perfect shoulder-season layer — and a cool piece of military history, too.
by Ben Radding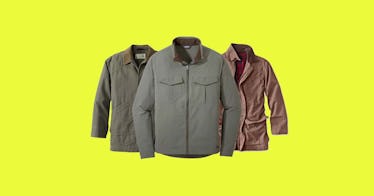 While spring warmer weather is a welcome break from harsh winter temps, it's not exactly T-shirt season yet. Nights can still be chilly, and until we roll into June it feels like the threat of rain is always lingering. You'll need to keep warm, but that doesn't necessarily mean pulling out a sweater. Layering's the name of the game in this weather, which calls for something that's easy on-and-off and doesn't look bulky — the field jacket is all that and is an ultra-cool piece of military history, too.
Undeniably rugged, the modern field jacket is inspired by tech worn by the armed forces. Take the M-41—named for the year it was produced — worn during World War II as a lightweight windbreaker-style shell made from a poplin, lined with wool flannel. That was followed by the 3/4-length and more weather resistant M-51, and finally, the most iconic field jacket of them all: the M-65. Made for the Vietnam War, this is the jacket you've seen all over Hollywood. It was on Rambo in First Blood.
Made with a blend of nylon and cotton sateen, the M-65 was designed for jungle warfare with an advanced blend of nylon and cotton sateen that improved the jacket's wind and water resistance. Fashion brands eventually took notice of the iconic jacket's style and utility — with features like a hood that tucked into the collar and Velcro on the sleeves to keep water out — and started making versions for the everyday guy. You'll want one because they add an air of ruggedness to any outfit and they adequately protect you from wind, rain, and cold. Two birds with one stone.
Every product on Fatherly is independently selected by our editors, writers, and experts. If you click a link on our site and buy something, we may earn an affiliate commission.
This article was originally published on