If You're Not Pelting Your Kids With This Marshmallow Crossbow, You're Clearly Parenting Wrong
And when you're done, it's time to pig out.
by Jon Gugala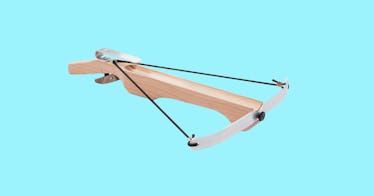 There are two types of dads: The first, who thinks marshmallows should be floating on a steaming cup of hot chocolate; and the second, who envisions a living room battlefield where the air is thick with whizzing puffed confections. For the latter (and definitely for us), there's the MMX Vancouver Marshmallow Crossbow. It's a thing of beauty, but above and beyond that, it lets you pelt your kids with marshmallows and..actually, there's nothing more to add. Of course you want one for Christmas.
Low-sugar diets and dentists, take cover: MMX Vancouver's sweets-slinger is capable of launching a 'smore-sized marshmallow up to 60 feet. A simple trigger mechanism is easy to operate regardless of age, and the soft projectiles are some of the most harmless you and your child can exchange. Whether snowed in or during a long winter break, it's a fun way to get moving while creating little permanent damage.
Unlike the plethora of plastic crap marketed to you and your child, the "Mallow Bow" is made of natural materials, including a Douglas fir two-piece stock and black walnut trigger. Natural rubber is used for its bowstring, and copper and aluminum comprise its hardware. All told, these materials combine for a product that can withstand plenty of use and abuse.
Take note: There's some assembly required, but it's minor and requires no tools, making it less difficult than your average LEGO kit. And while it's not rated for a minimum age, because of its power, younger children should have some supervision and assistance in loading it.
As the days grow short and the holidays loom ever nearer, MMX Vancouver's Marshamallow crossbow is a fun way to beat the winter blues. Whether you engage in individual combat or simply target practice around the home, it's a ton of fun while being incredibly safe—and delicious.
Every product on Fatherly is independently selected by our editors, writers, and experts. If you click a link on our site and buy something, we may earn an affiliate commission.