Daniel Craig's Rugged New James Bond Jacket Is Totally Affordable
Snag 007's new casual look from 'No Time To Die' while you still can.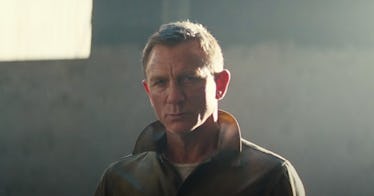 Credit: MGM
Daniel Craig's version of James Bond has come a long way since he sported that floral-print short-sleeved shirt in Casino Royale. In fact, it looks like that in the next big Bond flick – No Time To Die — Bond will have the best blend of casual and formal looks in a very long time.
Jokes about that one shirt aside, Craig's Bond has always looked great through his four 007 films. But in the trailers for No Time To Die (out October 8, 2021) Bond is rocking a down-to-earth brown canvas jacket that we totally love. (You can see it in the trailer when Bond gets his old Aston Martin of the garage.)
Part of what makes this jacket so rad is that it's actually something you would wear even if Bond wasn't wearing it in the new movie. Sometimes, men look to Bond for fashion tips, but with this Supply Jacket, it's like Bond is raiding the closet of dads everywhere.
Uncrate has a Rogue Territory No Time To Die Supply Jacket for just $295 bucks. This is the kind of jacket you can wear in all kinds of weather and will go with a million different outfits. Its durable, and made in the U.S. You can see Bond wearing this jacket in the No Time To Die trailer at numerous points. And, when the movie comes out, there's a good chance you'll want the jacket even more.
The only thing missing is some kind of hidden laser, but let's face it, that would probably drive the cost up way too high.
Every product on Fatherly is independently selected by our editors, writers, and experts. If you click a link on our site and buy something, we may earn an affiliate commission.