Hot Toy Deals: Robot Toys To Teach Your Kids Coding and STEM Skills
by Donna Freydkin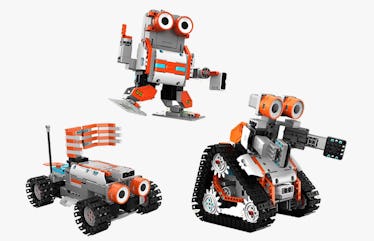 The holidays are almost upon us, which means gifts. Lots and lots of gifts. If you didn't find what you needed during Black Friday and Cyber Monday price drops, despite major toy deals and Sony PlayStation 4 Pro and Xbox Pro X discounts, we're curating some daily toy deals you can't pass up. This is stuff that'll make you the hero when your kids tear open their presents with all the subtlety and grace of stampeding wildebeests.
To be clear: Cheap toys go on sale daily, almost hourly. But the big-ticket items are harder to find. Quality toys, even harder. Which is why here, we're focusing on the stuff your kids covet, but maybe your wallet says: Hell, no. Check back daily.
Robot Toy Deals
Kids use the 440 snap-together parts to create their own mythical creature (whom we shall call a unicorn). They can then program the magical horn with different colors to customize their creation, plus they can create new, custom actions with the prp (pose, record, play) function. Great for kids ages eight and up.
If your kid prefers dragons to unicorns, he or she will dig this coding toy. Kids activate the touch sensor on firebot's chest and program actions with its movable wings. You do need an app to fully use this thing.
This STEM coding set, for kids five and up, doesn't require a device to make it work. Instead, kids use a remote programmer that sends commands and gets him rolling.
Dinosaur Toy Deals
Kids four and up press a button, and Primal Pal Blue goes into action. She even makes those scary-goofy movie sounds, of course.
Kids three and up can go to town with this set, which they control by pressing a button. If they set the dino free, she goes on a rampage. She has color-changing, light-up eyes that dilate and a mouth that glows red when she's mad. Skeeeeery.
LOL Surprise Deals
This brand produces a stupid amount of waste when kids unwrap their surprises. But unwrapping them, they love. And honestly, all the plastic aside (that's a lot to put aside), this is a damn cool glamper. The front detaches into a separate car and it has more than 10 hangout areas including bunk beds, a light up pool and slide, a fashion runway, BBQ patio and DJ booth.
This set has 60+ new surprises, including a limited edition, exclusive family.
Every product on Fatherly is independently selected by our editors, writers, and experts. If you click a link on our site and buy something, we may earn an affiliate commission.
This article was originally published on