The Fridaballs Boxer Briefs Defend Your Crotch From Direct Hits
These padded underwear were made to help keep your crotch protected from baby carrier kicks but they just might add a little "male enhancement" as a bonus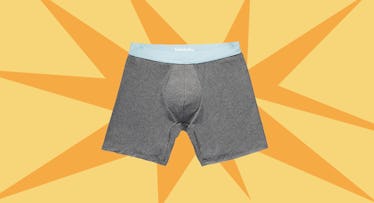 Flailing arms. Flung action figures. Flagrant assaults. As soon as you become a dad, your family jewels face a lot of threats. Well, Fridababy, the company behind the beloved baby snot-sucker, are very aware of this face — and have a plan of action. The company has released a new line of boxer-briefs built specifically to protect a dad's testicles. Called Fridaballs, the briefs have a layer of padding to protect men from the inevitable nut shots of fatherhood.
The impetus for the amped-up undies came from Eric Hirschhorn, husband of Fridababy founder Chelsea Hirschhorn. He'd apparently been complaining about nut shots for years — after getting kicked by swinging kid feet while wearing a baby carrier, for instance — but, according to his wife, his grousing was largely ignored "I mean I birthed these kids from my own body, so it's tough to compete with that frame of reference," she said.
But after doing some research of her own and finding some three million online videos of dads getting clocked in the jewels, Hirschhorn decided two things: her husband wasn't kidding about the damage to his crotch and there was a need for comfortable groin protection. Thus, Fridaballs was born.
Available for pre-order now, the boxer briefs are made of super-soft wicking fabric and feature a never-slip waistband. The crotch is protected by reinforced protective insert, much like a jockstrap, from which the designers found some inspiration. But unlike the cup, Fridaballs are designed to allow a dad freedom of movement, so he can forget he has them on until he gets a whack to his dangly bits.
Hirshhorn admits that the underwear haven't been tested "in the batters box" yet, she claims the underwear will dampen the impact of everything from taps to direct blows. She also notes that her husband was a guinea pig for the first version. "We are currently expecting baby number three," she said. "So I guess they work!"
As an added bonus, Fridaballs offer the slightest enhancement to a das package. Which means that not only will a father's nuts be protected from kid violence, they'll also look a tad more endowed than normal.
Every product on Fatherly is independently selected by our editors, writers, and experts. If you click a link on our site and buy something, we may earn an affiliate commission.
This article was originally published on