Cyber Monday: The Best Deals for Parents on Strollers, Car Seats, and Other Gear
Looking to save some money? Now would be the time.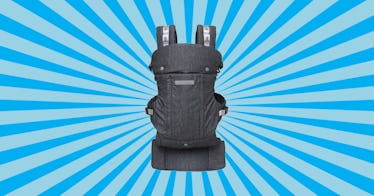 Black Friday and Cyber Monday represent the two opportunities new parents have to grab the stuff they need without breaking the piggy bank. Cyber Monday is especially exciting because all the shopping can get done while the baby naps (or the boss looks the other way). Why does this feel so high stakes? Because it is. Over the last decade or so, the price of pretty much everything associated with raising a human child has skyrocketed. All the more reason to get it while it's hot or, barring that, on sale.
Need jogging strollers, car seats, high chairs, diaper bags, or anything else? Buy now. Seriously. Need help knowing what to get? We've got your back. Fatherly is collecting all the best Cyber Monday deals for new parents. These are the best of the bunch….
Bloom Retro Solid Wood Crib: This mid-century modern wooden crib is as handsome as it is well-constructed, and you can get it complete with a mattress and rail for just $950, nearly $400 off the normal price for such a bundle.
Clarmiel One Touch Magnetic Lightweight Baby and Toddler Carrier: Choose from four different colors of this baby carrier, which comes with high-end features like magnetic clasps, breathable mesh, and detachable privacy hood. Like everything on JoliMoli.com, it's 40 percent off with code CYBERMON18.
Simons Kids Oval City Sleeper Bassinet: The mesh sides of this basinet allow for air to circulate easily and give you a clear view of your baby. It's $20 off today on Amazon.
Delta Children Sadie the Ladybug Lil' Play Station 3-in-1 Activity Walker: Your kid is surrounded by the interactive toys when she's in this activity station, which comes with rocker, walker, and stationary bases. You can grab one today at 45 percent off.
Graco Changing Table: This changing table is a nice-looking piece of furniture that comes with a water-resistant changing pad, safety strap, and two shelves that provide ample storage. It's heavily discounted today, at $55 off its list price.
Disney Baby Mr. Ray Ocean Lights Activity Gym: Fish, turtles, and an enveloping stingray will entertain your baby in this activity gym, on sale for $20 off on Amazon.
Thule Urban Glide Jogging Stroller: Stay in shape and take your baby along for the ride with this jogging stroller from Thule, 20 percent off on Amazon.
Graco DuetConnect LX Swing and Bouncer: This swing/bouncer combo vibrates a two frequencies, swings at six speeds, and will even play classical music, so no baby will go unentertained. It's $50 off at Target.
The totes InBrella Reverse Close Umbrella: Part of being a parent is always being prepared, and having an umbrella ready to go is preparation 101. Like everything on totes.com, this reverse closing model is 40 percent off with code 40CYBER.
Ergobaby 180 Reversible Baby Stroller: This lightweight stroller has a reversible handlebar that can be switched to be near your baby's head or her feet, depending on your mood. With the code "cyber100" it's only $199.
BabyBjörn Baby Carrier One: You can carry your newborn to three year old around in comfort with this trusted carrier, on sale for $70 off its list price.
Safety 1st Riva 6-in-1 Flex Modular Travel System: This versatile stroller-car seat combo is made in the United States of recycled materials, and it's 25 percent off for Cyber Monday.
Pro For Sho Baby Ear Muffs: Your kid can rock out safely with these ear muffs, available for just $14 on Amazon.
Little Tikes Jeep Wrangler Toddler to Twin Convertible Bed: Save $99 on this awesome, Jeep-themed bed with LED lights in the roll bar, running boards to help kids get in, and a built-in bookshelf.
Graco Quick Connect Portable Napper: Infant-appropriate napper and changing surface sit on top of this playard. Remove them and toddlers can hang out safely. This flexible system is just $85 at Target today.
Gb Pocket Compact Stroller: This stroller weighs less than 10 pounds and folds up or out in seconds. It's just $111 today at Target.
Evenflo ExerSaucer 2-in-1 Activity Center and Table: This discounted table comes with over 20 activities and a seat that spins 360 degrees and has three height settings.
Evenflo EveryStage DLX All-in-One Car Seat: This car seat comes with 10 total positions for 10 years of safe use, and it's just $157 today at Target.
Motorola 5″ Portable Video Baby Monitor: This single camera monitor comes with night vision and talk back functionality, and it's just $90 today, 40 percent off its normal price.
Every product on Fatherly is independently selected by our editors, writers, and experts. If you click a link on our site and buy something, we may earn an affiliate commission.
This article was originally published on