Thanks to Black Friday, This Award-Winning Hot Wheels Set Is Finally Affordable
The crazy deal only lasts through tonight.
by Amanda Tarlton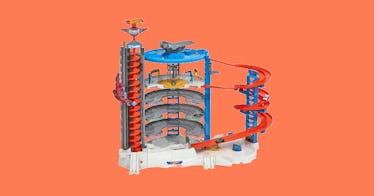 There are regular toys, and then there are the few toys that are quality enough to win the coveted Toy of the Year award from the Toy Industry Association. That's an honor that the Hot Wheels Super Ultimate Garage Playset has earned in 2018—and now the award-winning wheels, which usually cost a whopping $200, are on sale for $135.99 as part of Amazon's Black Friday sale.
It's the largest Hot Wheels playset ever, standing over three feet tall with room for up to 140 cars. And the list of cool features is basically endless, from a motorized car elevator to a dual track for lightning-fast car races to the penthouse landing pad for the jet plane that comes with the set (along with four new cars). Of course, all that racing and flying requires a tune-up, which kids can get at the built-in car maintenance station complete with a car wash.
According to the Amazon reviews, the set only takes about an hour to put together–and once it's fully set up, it provides hours of entertainment. And the reviews for the set prove that it was worthy of its award, as parents rave about how much their kids love this incredible track.
The deal ends at midnight Pacific time (so November 24 at 3 a.m. EST) or while supplies last. It's the perfect gift for the kids on your list who love the iconic Hot Wheels brand—after all, the new Super Ultimate Garage Playset can even be connected to other Hot Wheels tracks for a completely customizable motorway.
This article was originally published on