Here's All the Baby Yoda Merch You Can Buy Before Christmas
The adorable "Child" from 'The Mandalorian' controls everything. But here's how you can get him for Christmas!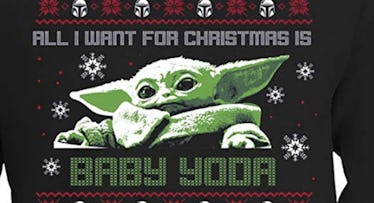 Credit: Amazon
Here's the deal, Star Wars fans. You cannot get an actual Baby Yoda toy before Christmas. But you can get a lot of cool Baby Yoda stuff before Christmas. Prior to the launch of The Mandalorian, Lucasfilm, and Disney wanted to keep the existence of Baby Yoda under wraps, which is why there is such a dearth of Baby Yoda stuff out there. But fear not! Here's a complete list of Baby Yoda stuff you can actually buy before Christmas.
Pre-Order Talking Yoda Toy
Kids squeeze baby Yoda's soft body to hear sounds.
Pre-order Plush Baby Yoda and Other Baby Yoda Toys
Okay, first things first, if you need to feel like you bought a Baby Yoda toy, you can pre-order the official plush and plastic version right now.
It's only $24.99, and because these are pre-orders that are expected to ship in April (we know), Baby Yoda can't technically sell out. Yet.
Baby Yoda strikes funny poses!
Your very own baby Yoda collectible figure!
Best Baby Yoda Gifts You Can Actually Get Right Now
Most of the Baby Yoda stuff you can get right now are shirts, but there's also an amazing Christmas sweater. Here's everything you can snatch-up.
The stylized baby Yoda collectable stands nearly four inches tall.
Baby Yoda is here to provide a secure hold for easier texting, calling, photos, and selfies. Thank you, our Child.
A shirt featuring baby Yoda? Hells, yeah.
What mean and green and gaudy all over? Look for yourself.
Take a Christmas nap with the Child himself.
Baby Yoda makes everything, even ugly Christmas sweaters, better.
Another baby Yoda T-shirt that makes us smile.
Another option, if you prefer the long-sleeved variety.
Unlike certain celebs, baby Yoda doesn't have a bad side.
Understated, in simple black and gray.
Baby Yoda: What You Need to Know
According to CNBC, Lucasfilm and Dinsey started rolling out merchandise connected to Baby Yoda right before Thanksgiving, which properly sold out.
Keep in mind, that in the context of the Disney+ TV series, this character is just called "The Child," so if you search for Mandalorian + the Child on Amazon, you'll find a bunch of stuff. Right now, most of this merch is just apparel, but Hasbro has claimed seems like there could be adorable plush Baby Yodas coming soon. Just…probably…not before 2020. So, right now, actual Baby Yoda toys are not for sale, but if that changes, we will let you know!
This is markedly different than how Lucasfilm rolled-out the cutesy Porgs from The Last Jedi. In that case, the merchandising of the Porgs preceded the actual movie Porgs by nearly six months. But, apparently, Iron Man maestro Jon Favreau convinced his Disney plus overlords to keep Baby Yoda a secret until the show aired. This, of course, was the right move.
In the third episode of The Mandalorian, the gender of Baby Yoda ("The Child") was been established as a "he." And yes, this gender-reveal party in the Star Wars universe is just as rough-and-tumble as you might expect.
We will update this article as new information becomes available.
New episodes of The Mandalorian are streaming now on Disney+. Here's a guide to when all the episodes drop.
Here's our complete guide to Disney+.
This article was originally published on