A Bunch of Incredible Pool Floats And Unicorn Sprinklers Are On Sale Right Now
Get 'em for cheap. And we mean cheap.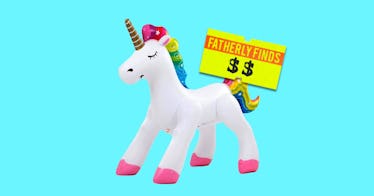 It's the peak of summer, that magical time of year when two minutes is more than enough outside time to go from dry to dripping in sweat. So thank goodness for pools, those backyard oases that make being outside bearable. The only thing better than a pool is a cold pool with a pool float — preferably a ridiculous one like a giant unicorn sprinkler — which is why Amazon's pool float sale is extremely well-timed.
So if your pool has been a little empty and feeling a little sad, don't miss this opportunity to fill it up with ridiculous inflatable toys on the cheap. These are some of our favorites.
This 80-inch-long toy is big enough for multiple riders (three smaller kids or two bigger kids). It has four handles for kids to grab onto and is made of strong 12-gauge vinyl with two air chambers.
Highly recommend if, like us, you find yourself consuming pounds of guac throughout the summer. Ideally paired with a giant inflatable onion, lime, and tomato (for pool float guac), this avocado float from Sunba Youth is the perfect amount of silly. It's also nice and heavy-duty, with a weight capacity of 600 pounds and a quick-inflate valve to get you into the water faster.
Flamingos become more or less pink depending on how much algae, larvae, and brine shrimp they've eaten recently, but this pool float version will stay its rich, unrealistic shade of pink-purple for a long time thanks to its fade-resistant material. It's 45 inches in diameter, the perfect size for one person who wants their feet to dangle into the water just a little bit.
This float has a built-in backrest, headrest, cupholder, and ottoman (!). In other words, it's a relaxation machine. The mesh seat keeps you in the water while inner spring adds extra stability. We're also big fans of the sun canopy, a removable feature that can keep you nice and cool no matter how hot it gets.
The middle of this float has a meshlining so your kids can fall through it, though the sides remain free and open save for a backrest. There's also a grab rope and handles that make it easy to tie more than one of these 53-inch wide river-ready floats together. And don't worry: two cupholders are also included.
One word: cupholders. Your kids can keep their sodas secure with the twin beverage sheaths on this 75 by 61-inch float, and you can keep your summer beers at hand once you commandeer it from them. Beyond that crucial feature, this float is made with thicker (0.27-mm) material that's fade-resistant and non-toxic. Just don't try to eat the pepperonis.
Four stakes are included to keep this unicorn from flying away, while its heat-resistant PVC construction will keep your kid's new summertime friend from getting too hot. Just make sure you have a hose handy: half the fun of this rainbow unicorn inflatable is in its ability to spray down the neighborhood kids with its horn.
This float has everything, from a realistic poppy seed, sesame seed, onion, garlic, and salt design on one side to a smooth, white schmear of cream cheese on the other. It also comes with bungee connectors that let you connect two halves for a full bagel. Just make sure you wait at least 30 minutes after eating a real everything bagel before going for a swim with this inflatable version.
No ugly duckling here. While not as flashy as some of the mythical creature pool floats out there, the white color of this swan still looks great. You can sit up on it, hugging the neck for support, or lean back on the tail and wing sections for a more relaxed day floating around the pond, er, pool.
You attach this flowery sprinkler to any garden hose and adjust the water pressure to make the water spray higher or lower. It's perfect for little kids.
Recommended for babies nine months and older, this baby pool float features a very sweet octopus that turns 360 degrees. It features a squeaker, rattle, stacking rings, and soft touch star, and provides UPF 50+ sun protection.
Every product on Fatherly is independently selected by our editors, writers, and experts. If you click a link on our site and buy something, we may earn an affiliate commission.
This article was originally published on