Yellowstone 2023 Season 5: Trailer, Release Date, and Where to Stream
'Yellowstone' has dropped the teaser for part 2 of season 5. Here's what we know.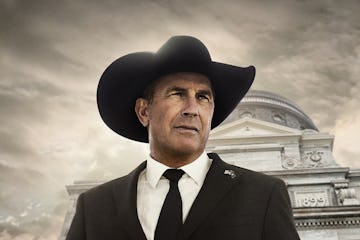 Paramount
We may receive a portion of sales if you purchase a product through a link in this article.
The western empire of Yellowstone is expanding. As Harrison Ford and Helen Mirren fill in the backstory of the Dutton family in Yellowstone in the currently airing prequel series 1923, the future of Yellowstone in the present day — with Kevin Costner in the lead — just got clear. As of January 1, 2023, We've got the first teaser for the rest of Yellowstone Season 5.
Here's when the second half of Yellowstone Season 5 debuts in 2023, where and how to watch it, and what it all means for the larger timeline of the series.
Yellowstone 2023 Season 5 teaser trailer
Yellowstone Season 5 started back on November 13, 2022. Like many contemporary shows, this season paused midway through, leaving fans wondering when it would come back. But now, Yellowstone is back with a vengeance. The new trailer is short, but the rest of Season 5 looks bigger than ever.
Yellowstone Season 5 2023 release date
The second half of Yellowstone Season 5 will be released in the Summer of 2023. The press release for Paramount doesn't have anything more specific than that. Yet. But watch this space and we'll update that info as soon as it gets more specific.
Where to watch Yellowstone Season 5
As of now Seasons 1-4 of Yellowstone stream on Peacock. But, the new episodes don't drop there first. New episodes of Yellowstone also do not stream on Paramount+, even though the two prequel series — 1883 and 1923 ' do stream on Paramount+.
So, if Yellowstone Season 5 doesn't stream on Peacock or Paramount+, where can you watch when new episodes air? How can you catch up on the first seven episodes of Yellowstone Season 5?
Because of complex legal reasons, new episodes of Yellowstone air on the Paramount Network, not Paramount+. The "Paramount Network" is a cable channel, which means you can stream it, but you have to have some kind of cable package to do so.
However, you can watch the Season 5 premiere on the Paramount Network website for free, right now.
Watch Yellowstone Season 5 on Amazon
If you don't have cable, your best bet at streaming Yellowstone Season 5, is to buy a package on Amazon Prime. This will give you access to Parts 1 and 2 of Season 5, and the episodes will show up in your account after they air.
How will 1923 impact Yellowstone Season 5?
Because 1923 is a prequel to Yellowstone, it's possible some of the events of that show could retroactively be referenced in the contemporary setting of Yellowstone Season 5. But, because 1923 is still airing new episodes on Paramount+, how it changes the overall events of the series is, for now, unclear.
There are still five new episodes left in 1923 Season 1. New episodes there drop on Sundays on Paramount+.