16 Years Ago, This Brilliant Dad Rock Band Dropped Their Most Important Album
Of all The National's albums, Boxer is the most pivotal.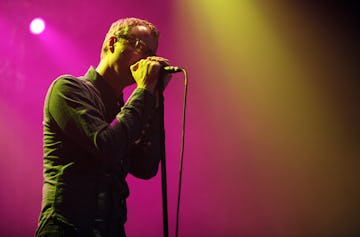 Scott Gries/Getty Images Entertainment/Getty Images
The Fatherly Turntable
We may receive a portion of sales if you purchase a product through a link in this article.
When The National released their first self-titled album back in 2001, they did not instantly become the soundtrack for moody people who enjoy staying in with a book as much as a night out with their friends, getting wasted. The transformation from a good band that you'd heard of, to a band that you had to know everything about, arguably happened sixteen years ago. On May 21, 2007, The National dropped their fourth album Boxer and solidified their status forever. Here's why it remains their most enduring album and the place you should start if you're still on the fence with this band.
In her recent wonderful profile of The National for The New Yorker, Amanda Petrusich pinpoints the appeal of the band, specifically among those who fall into the demographic of "sad dads." Petrusich writes that the music of the band captures the "ambient sadness" of a certain kind of "midlife ennui." And yet, 16 years ago, with Boxer, The National weren't yet the stalwart sad dad rockers they are now. Instead, they were like many of us back then; sad moms and dads in training. The brilliance of Boxer is that it evokes the feeling of indie rock time travel. Boxer feels as fresh as it did in 2007, but unlike listening to something like the early Strokes, a great National album will feel as though it was written for you now, not then.
There's nothing in the production quality that makes Boxer feel particularly rooted to a time, and yet, it also, somehow, feels attuned, personally to the listener. This is the general magic of The National. They feel like your secret friends, speaking directly to you, dropping phrases that seem so perfect and sad, but somehow buoyant. A lot is written about how the lyrics of Matt Berninger capture various states of depression, but, The National is not like some kind of cynical American version of Radiohead. Boxer is classic not because it's angsty, but because it's uplifting and crucially, funny.
On the eighth track, Berninger sings, "I'll get money, I'll get funny again." This kind of sentiment is brilliantly relatable to anyone who has planned a sort of comeback in their own mind, but it lands because we recognize the hilarious emptiness of the silly false promise. The stakes are always emotional in National songs. The premise of "Mistaken For Strangers," could just as easily be the driving narrative force of an episode of Curb Your Enthusiasm; the idea that your own friends can't recognize you in passing, because of weird lighting from a bank's neon sign. The National is a little funny because the lyrics get specific, and in those everyday details, there's a tragedy, too. On "Gospel," Berninger sings to an unseen friend or lover, talking bout hanging up some holiday lights as a favor but first, a peace offering "two armfuls of magazines for you." Why did this person bring over the two armfuls of magazines? Which magazines? Why is this so funny? And why does it sound like everything is about to fall apart, too? Perhaps not accidentally, on "New Order T-Shirt" one of the tracks from The National's newest 2023 album — The First Two Pages of Frankenstein — Berninger refers to a "magazine skyscraper," evoking the image of someone standing next to, again, stacks of magazines. Remember when our apartments used to look like that?
Sonically, Boxer is one of the most perfect National albums. When Bryan Devendorf's drumming kicks in on "Mistaken For Strangers," the album basically takes hold of you and never lets go. Meanwhile, piano duties from Aaron and Bryce Dessner, are hauntingly beautiful on the ending of one of the best songs on the album; "Slow Show." Scott Devendorf's bass hums with this piano outro, as Berninger sings "You know I dreamed about you, for twenty-nine years before I saw you."
This lyric was kinda a remix from a song called "29 Years" from their debut self-titled album in 2001. But, the difference between that version and "Slow Show" is staggering. "29 Years" feels more like a Bob Dylan tribute song, a concept-driven track, a spoken-word song with a sardonic edge and traces of beauty. But, with "Slow Show," The National took that stripped-down throwaway and transformed it into an epic and deeply affecting ballad. "Slow Show" is totally better than "29 Years" in every conceivable way, even though The National needed the rough draft of the first version to get to the perfect version.
The latest National album The First Two Pages of Frankenstein, is similar to Boxer in one respect: Both are the kinds of albums that sneak up on you. Upon first listen, both Boxer and The First Two Pages of Frankenstein might make you think there's just a handful of "singles," and the rest of the album is moody National-isms. But then, the more you replay the album, the more you realize that every aspect of it works and that each song belongs on this album specifically, and wouldn't fit in elsewhere. This fact is true of their best records — like High Violet (2013) and Sleep Well Beast (2017) — but maybe not as true as some of their albums which simply contain great songs, like I Am Easy To Find (2019) or Cherry Tree (2004).
For the faithful, there are no bad National albums, though some seem to come together better than others. Of those very special, and essential perfect records, Boxer reigns supreme. It's a record that truly rocks, and can, interestingly, get you moving despite being a kind of gold-medal winner for introspection. But, at the same time, it gives us what the National does the best; reminds us we've always been weird and that sometimes, it's okay to want to stay inside and think about that.