Star Wars Has Finally Made A Truly Great Kids Show
And it was possible with a little help from Doc McStuffins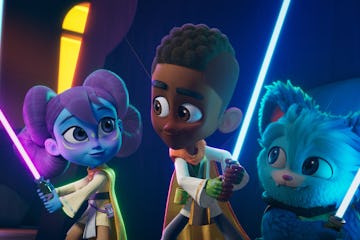 Lucasfilm/Disney+
For parents who love the Star Wars saga, it's always been a little tricky to figure out where to start with your kids. Do you watch the movies in the order in which they were released? What about all the new shows? And, perhaps, the most urgent question of all — Is Star Wars even okay for my very young child? With its history of parents hacking off their children's hands with lightsabers, or the occasional moody son stabbing his dad through the belly, it's understandable that families with the youngest of younglings might want to wait until their kids are much older before diving into the complicated themes of the Force.
That is, until now. With the release of Young Jedi Adventures, the Star Wars franchise has finally delivered a series created specifically for the youngest padawans. The new show is basically what Doc McStuffins did for kids who were curious about medicine, but this time, it's all about lightsabers and saving the day in the biggest space adventure, ever. Young Jedi Adventures is the perfect way to introduce toddlers, preschools, and kindergarteners to the magic of the Force.
In fact, the creator of Young Jedi Adventures, Michael Olson, tells Fatherly that the genesis of the new series directly came from being a dad himself. After his daughter was 5, he showed her A New Hope. She loved it. Of course. "But, it did make me wish that there was some kind of Star Wars show or movie that was tailored for kids her age," he says. "And so, when we were approaching this show, we had to hold that tension of this is a Star Wars show, and it has to exist in the world of Star Wars and kind of feel like it's a piece with everything else, but also it needs to be made specifically for our audience."
Luckily, Olson had the perfect training required to make that happen. Prior to helping create Young Jedi Adventures for Disney+, he'd previously worked on the animated Disney shows Puppy Dog Pals and, the mega-hit Doc McStuffins. And it's the experience on Doc that Olson says truly helped prepare him for making Young Jedi Adventures into the most thoughtful, and kind show for kids that it could be. In fact, Olson says that, in some ways, the characters and situation on Doc McStuffins helped him before a better father.
"I was very lucky to work with Chris Nee, who created Doc McStuffins," Olson says. "That was the first Black lead of a Disney Jr. show. And to see how people responded to that and how much that representation mattered really opened my eyes and my heart. So that definitely impacted the way I approached creating Young Jedi Adventures, and especially the character of Kai, who I made for my younger cousin."
If parents are on the fence about starting their very young children on a Star Wars adventure, rest assured, calling Young Jedi Adventures a kind of mashup of Doc McStuffins and Star Wars is pretty much exactly what it is. The show is exciting enough for kids to watch, but not violent or scary in any way at all.
Set 200 years before The Phantom Menace, Young Jedi Adventures intentionally takes place in a part of the Star Wars story that has never really been explored. In other words, before all the darkness started encroaching on everything, it's safe to say that the sweet era that Obi-Wan Kenobi wistfully described to Luke was pretty awesome. For Olson, this was by design.
"This is a time that thankfully, the Jedi are at their height," Olson says. "It's a gilded age. Everyone is looking up to the Jedi. It's also an age of exploration when the outer rim largely hasn't been explored by the Republic. It felt like the perfect time to set a show centered around kids because we're not dealing with the nuances of Sith Lords or the Jedi in their downfall."
Interestingly though, this show is part of the "High Republic" era of Star Wars, meaning it's real-deal canon. If kids start with Young Jedi Adventures, there are plenty of High Republic books out there, not to mention the forthcoming show The Acolyte set, 100 years after Young Jedi Adventures. When asked if he's aware that he's created characters that could appear in other media, years from now as older versions of themselves, Olson nods and smiles knowingly. "Oh yes. I have thought about that. That's all I can say."
But, beyond any cool Star Wars background lore, more than anything, Olson said the goal of the series is to help kids learn the heroic lessons from Star Wars, in a way that speaks directly to them. One of the young Jedi, named Lys Solay was inspired by Olson's young daughter. Olson is a Star Wars fan, who knows, from experience, what makes good kids TV work, but he's also a dad — in the same generation as all the dads out there looking to watch Star Wars with their kids. He's one of us, and he's making a show for our very young kids.
And, instead of starting in the dark times, this journey to the faraway galaxy will start in the light. "It's really, this is a wonderful, optimistic time where people view the Jedi as heroes," Olson explains. "And our kids get to be those heroes themselves."
Star Wars: Young Jedi Adventures streams on Disney+. Doc McStuffins is in Fatherly's mega-list of the 100 Best Kids TV Shows Ever. Read it here.