16-Year-Old And Dad Rock Band Are Slaying Raffi Covers — Including "Bananaphone"
A new twist on classic kid songs.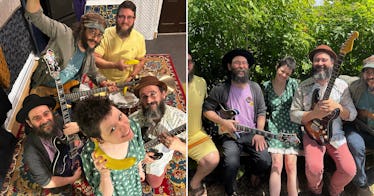 ootnoots
There are some songs from our childhood that just seem to stick with us. And when it came to creating those earworms, no one did it better than Raffi — but a teen and her dad are giving the icon a run for this title with a new album putting a twist on Raffi's most popular songs, including "Bananaphone."
Meet Ruthie Cipes, a 16-year-old singer and member of the Oot n' Oots, a band she's in with her dad, Ez, and her uncles, Ari, Game, and Matthew. Ruthie's dad and her uncles each have a nostalgic tie to Raffi and his music — especially the iconic song "Bananaphone."
"Bananaphone" was introduced to the brothers in the station wagon back in 1994, and it's been stuck in their heads ever since," a press release for the band says. "The love for it was passed it down to Ruthie who digs into this song with abandon and full emotion a like powerfully cathartic playtime."
To honor their love for Raffi and to raise funds for Raffi's Foundation for Child Honouring, a non-profit organization dedicated to advocating for a child's right to live free of commercial exploitation, Ruthie and the Oot n' Oots are releasing two song tribute titled Ruthie Sings Raffi.
Of course, "Bananaphone" is one of the two songs, and the other is another Raffi classic, "Baby Beluga," with a rock n' roll, Beach Boys-inspired twist.
"These songs are pure golden classics. We think of Raffi as being one of the great modern songwriters. These beautiful melodies give us a chance to highlight Ruthie's voice and let her stretch out," says Ez on behalf of the band.
The digital two-song album Ruthie Sings Raffi is available now anywhere you find your music, including Spotify and Apple Music.