25 Years Ago, One Great Rock Album Rescued Underrated Songs From Oblivion
In 1998, The Masterplan was a revelation.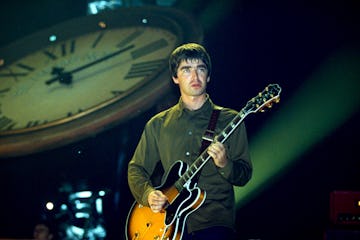 Brian Rasic/Hulton Archive/Getty Images
The Fatherly Turntable
We may receive a portion of sales if you purchase a product through a link in this article.
Explaining the concept of a "B-Side," to someone under the age of twenty-five is extremely difficult in 2023. But, it wasn't really all that much easier in 1998, either. Especially in America. Although cassette and CD singles were certainly still being released in the late '90s, it was extremely uncommon for kids in middle school or high school to collect each CD single release from their favorite band. And, if your favorite band happened to be British, and all those CD singles were imports, you simply didn't have the money. Trust me, I remember.
So, on November 2, 1998, when Oasis dropped an album of B-Sides called The Masterplan, for a lot of younger, non-UK fans, this album was not only a surprise but a revelation. Because all the songs on this album had been included as B-Sides on previous Oasis singles, this made it an instant retrospective on a bunch of tracks that were basically invisible to American fans. In fact, unless you'd seen Oasis live prior to 1998 — which was admittedly difficult, considering their habit of canceling shows back then — there was no reason for you to even know that these songs existed.
Twenty-five years later, The Masterplan remains an underrated rock album filled with underrated songs, which all represent various alternate universes in which the vast majority of these tracks could have been hits on more conventional studio albums. Over the years, various critics have pointed out that Oasis songwriter Noel Gallagher had a tendency to throw away absolute bangers as B-Sides, and The Masterplan is proof that not only is that true, but also an understatement.
The Masterplan kicks off with one of the band's all-time best songs ever, "Acquiesce," which was originally released as the B-Side to "Some Might Say" in 1995. While "Some Might Say" is a classic track from What's the Story? (Morning Glory), it's really hard to figure out why anybody thought "Acquiesce" couldn't make the cut for that legendary album. It's a soaring rock anthem, which features both Gallagher brothers, Liam and Noel with prominent vocal parts. The track is like a mash-up of "Don't Look Back In Anger," and "Supersonic" insofar as it is both a ballad and a badass stomper at the same time. And, because the contentious Gallaghers rarely trade vocals like this, "Acquiesce" is the platonic idea of what an Oasis song should be, even if they really only ever managed to pull this off again with "Let There Be Love" in 2005.
"Acquiesce" is only the first track on The Masterplan, and kicks off a near-perfect record of hidden gems, which would have remained hidden had these leftovers not been put together into an actual album. Notably, and unlike the three previous Oasis studio albums, The Masterplan includes several more tracks in which only Noel sings, rather than Liam. On Morning Glory and Be Here Now, Noel had solo vocal duties on only two tracks, "Don't Look Back in Anger," on the former, and "Magic Pie" on the latter. On Definitely Maybe, the band's first album, there are zero tracks with Noel on lead vocal.
But on The Masterplan, there are four songs with Noel on lead vocals, not counting "Acquiesce." And it's in those tracks where the songwriting brilliance of the elder Gallagher became so apparent to fans who had only heard the studio albums. Both "Talk Tonight" and "Half the World Away," could have been moody singles for Oasis, had they not defaulted to releasing more radio-friendly Liam-led tunes instead. Noel clearly loved this track, so much so, that he reused the basic lyrical structure of "Half the World Away," in the Chemical Brothers collaboration "Setting Sun" in 1997. Recorded in 1994, "Half the World Away" was doubly hidden from American fans prior to 1998. Not only was it a B-Side, but it was a B-Side to the non-album single, "Whatever." So yes, seriously, Noel Gallagher loved hiding his best songs in the '90s. This fact is a fascinating counterpoint to the boastful reputation Oasis had back then. Noel liked to claim he had the best band in the world, while quietly tucking away masterpieces as deep-cuts where only hardcore fans could find them.
Today, "Half the World Away," and "Talk Tonight," have arguably, aged much better than the vast majority of the more straight-forward hell-bent rock tracks from Definitely Maybe. And we haven't even gotten to the title track "The Masterplan" yet. The word "acquiesce," doesn't appear in the song "Acquiesce," but it does appear at the start of the Noel Gallagher classic, "The Masterplan."
The fact that this song closes the album, after "Acquiesce," opens it, makes it seem like this whole thing was planned. In fact, if you didn't know that this record was a hodgepodge of B-Sides, you might assume it was something of a concept album, with these two tracks the obvious bookends. But, "The Masterplan," is bigger than the actual album The Masterplan. With John Lennon-esque musings about the nature of life, and a simple, yet wonderfully upbeat chorus, it remains one of Noel Gallagher's greatest achievements as a songwriter. Yes, "Don't Look Back in Anger" can make crowds lose their minds, two decades later. But "The Masterplan" makes us weep.
Up until 1997 Oasis was a band with a post-punk sound, with vocals from a frontman who was a fusion of Ian Brown from The Stone Roses, and, to some degree, John Lennon. But, in 1998, Oasis revealed that Liam Gallagher's voice wasn't the only thing Oasis had going for it. Hilariously, "The Masterplan" was originally the B-Side to "Wonderwall," and while that song remains a classic, there's good money that you'd rather listen to "The Masterplan" right now, than ever hear that other song, ever again.