SNL Is On Strike. Here Are 5 Great Sketch Comedy Shows To Catch-Up On Now
The Writer's Strike means no late-night shows and no SNL. Here are five great sketch shows to catch up on right now.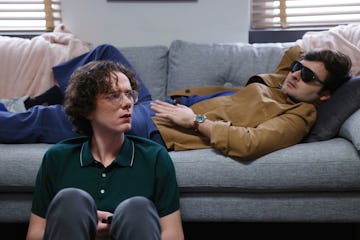 NBC/NBCUniversal/Getty Images
For many, Saturday night, Sunday morning, and even Monday have rationally meant one thing: Watching Saturday Night Live. But, as the WGA strike drags on — and writers fight valiantly against AI and unfair labor deals — one of the most obvious impacts is the lack of any new SNL. Yes, other late-night shows have also been shut down by the strike, but in terms of a cozy, weekly dose of new sketch comedy, the sudden absence of SNL is probably the most shocking. So, until SNL returns, what should you watch in its place?
Here are five great sketch shows to catch up on right now, to scratch that SNL itch, until everything (hopefully) gets back to better than normal.
5. That Damn Michael Che (Max)
In Saturday Night Live, Michael Che famously never appears in sketches, and only on Weekend Update, along with Colin Jost. But, the novelty of That Damn Michael Che, is how much we get to see Che in actual sketches. The show hit in 2021, so, some of the lockdown humor from Season 1 may feel slightly dated. And yet, some of the funniest and rawest comedy Che has done is in his show, along with a little help from his SNL friends. Plus, seeing Michael Che outside of his Weekend Update persona is fantastic. On top of that, the 2022 Season 2 is deeply underrated and features some of Che's best and most biting humor.
That Damn Michael Che is streaming on Max.
4. The Kids In the Hall- 2022 (Amazon)
Calling a comedy sketch show "offbeat" might feel redundant. But, when it comes to the classic Canadian '90s comedy series Kids In the Hall it's really the only word to describe it. In 2022, they returned for another series and proved they hadn't lost a bit of their magic. Now, The Kids In the Hall is certainly an acquired taste, but if you missed the 2022 reunion, now is the time.
The Kids In the Hall (2022) is streaming on Amazon Prime.
3. I Think You Should Leave (Netflix)
Speaking of acquired tastes, Tim Robinson is certainly one of the most unique comic actors in the world. In I Think You Should Leave — which just dropped its third season — the name of the game is cringe humor. But, the talent here is undeniable. Tim Robinson is doing something that sketch comedy hasn't done since perhaps, Mr. Show; make you laugh nervously.
I Think You Should Leave is streaming on Netflix.
2. Inside Amy Schumer (Paramount+)
The return of Amy Schumer to sketch comedy in 2022 has been great for parents. Nearly every single sketch is relatable (especially if you have kids) and Schumer is more daring and brilliant than ever. If you slept on the new Inside Amy Schumer now is the time to catch up. She's better than she's ever been.
Inside Amy Schumer is streaming on Paramount+.
1. Older SNL (Peacock)
Still not sure you can live without SNL? Well, there's always Saturday Night, without the "Live." There are literally 48 seasons of SNL streaming on Peacock, which goes all the way back to 1975. Do you know who the first guest host of SNL was? It was George Carlin! From the brilliance of classic cast members like John Belushi and Gilda Radner to the amazing musical guests (Paul Simon was on there all the time) classic SNL can't be beat.
Plus, again, Peacock has everything from the beginning until now, which means you can also hit up the '90s (Dana Carvey!), or even the recent-ish early-to-mid-aughts period when Tina Fey or even Andy Samberg were still dominating. Seth Meyers once told Fatherly that every generation has its own golden age of SNL and that whatever that era was, "your era was the best." Until the new era starts up again, maybe it's time to revisit yours.
Saturday Night Live is streaming on Peacock.