The Kids in the Hall Returns After 30 Years: Where and How to Watch
After nearly three decades, the kids are back together.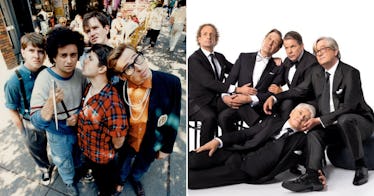 Rick Eglinton/Toronto Star via Getty Images; Prime Video
The kids are back in town, and the gang has gotten back together. After close to 30 years off-air, Dave Foley, Mark McKinney, Bruce McCulloch, Kevin McDonald, and Scott Thompson reunite for another season of their very-loved sketch show, The Kids in the Hall. Here's what you need to know.
The Kids in the Hall has been brought back from the grave.
It's a fun time for TV fans because streaming giants like Netflix and Amazon Prime have brought back stories from our childhood with a fresh twist over the past few years. Of course, this means a new reboot with a new cast, but Kids in the Hall is going in a different direction.
Close to 30 years after the original series went off the air, it's been announced that the Canadian comedy sketch show is coming back. But instead of a group of fresh new kids, all the originals are set to return.
Several special guests are slated to appear in the upcoming season, including Jay Baruchel, Will Forte, Catherine O-Hara, Kenan Thompson, and Pete Davidson.
When and where can we watch The Kids in the Hall reboot?
The news of the revival was first announced in March 2020, and shooting began last year after the crew got together to write the series. There will be eight new episodes of the new show, and it will be full of the same absurdity that made the original series so loved.
Since all the guys have returned, we can expect to see some of the sketches that left us in stitches years ago – and new ones, too.
SNL creator Lorne Michaels will produce the new season of The Kids in the Hall. It will be available in 240 countries starting May 13 on Amazon Prime Video.
Where can you watch the old Kids in the Hall seasons?
The original series first aired in 1988 with five seasons on HBO, CBC, and CBS. After the end of the TV series, the Kids got back together in 1996 for a movie, The Kids in the Hall: Brain Candy.
Seasons 1 through 5 can be streamed on Amazon Prime Video.
This article was originally published on