These Are the Most Popular Kids' Shows in America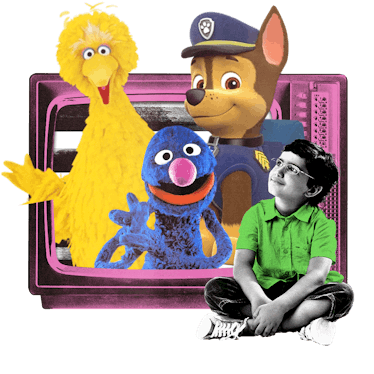 Emma Chao/Courtesy Netflix; Sesame Street; Nick Jr; Fatherly; Getty Images
Thanks to the proliferation of cable channels and streaming services, there are way more kids' TV shows around today than ever before. Long gone are the days when Sesame Street and Mister Rogers' Neighborhood were the most popular kids' shows on TV simply because they were the only kids' shows on TV. Don't get us wrong—those PBS classics are still popular kids' shows—but there's a lot more competition nowadays amongst shows jostling for screentime supremacy.
With so many options, what kids are actually watching is a more difficult question. To help parents keep up with their kids, we put together a list of the most popular kids' shows right now, the titles you'll be hearing about—and the theme songs that will be stuck in your head—whether you like it or not. We've included which subscription-based streaming services you can find them on along with the channel-based websites you can log into with your TV provider credentials (i.e. without any extra charges for subscribers). They're also often available to rent or purchase from online video stores like iTunes, Google Play, and Amazon Video.
Editor's note: This list was compiled using data from Parrot Analytics, Google Trends, and independent research. It is changing and evolving.
Bluey (Available to stream on Disney+)
Beloved by kids and popular enough with parents to have inspired internet conspiracy theories, the only real complaint about the cartoon featuring Australian Blue Heelers is that Bluey's very involved dad sometimes sets unreasonably high expectations for parents. And while almost all of the episodes are streaming on Disney+, there is one banned Bluey episode that Bluey superfans in the US will need to purchase outright on iTunes or Vudu.
PAW Patrol (Available to stream on Paramount+ and Nick Jr.)
A group of super-talented canines running around Canada solving problems? What's not to like? A lot actually, but that's not the point. The faster you make peace with these kids' cartoon characters and their adventures, the better.
SpongeBob Squarepants (Available to stream on Paramount+ and Nick)
Entering its third decade, this nautical nonsense is as popular as ever. Multiple generations of kids have now grown up with the silly tales of a sea sponge who works as a fry cook, and they're better for it.
Sesame Street (Available to stream on HBO Max and PBS Kids)
Sesame Street may have sold its soul to HBO and Apple TV+, but that doesn't mean we don't still love Big Bird. Even if the show isn't quite like what it was — and has way too much Elmo — that doesn't mean it's not still sweet. This one, you can sit through, and yes, children still like muppets as much as you did.
This Cartoon Network stalwart has been hanging around on lists like this for a long time. You probably haven't really thought about it too much, but because the series is about a guy who hangs out with talking crystal gems who shape-shift, the show has sort of limitless potential to make all kinds of kids happy. Don't call it a gem just because there are talking gems, but … oh … well … you get it.
My Little Pony: Friendship is Magic (Available to stream on Netflix and Hulu)
Friendship Magic is a welcome update from the original My Little Pony of the 1980s that functioned largely as a 30-min infomercial for toys. This new iteration focuses on female friendships, contradicting stereotypes of girls, and encouraging kids to be comfortable with who they are. But don't worry. Plenty of merch opportunities still abound if your kid wants to fill their wishlist with new My Little Pony swag.
Miraculous: Tales of Ladybug and Cat Noir (Available to stream on Netflix and Disney+)
A truly international show, Ladybug and Cat Noir hits many familiar superhero-beats as two teenage girls spend their days saving Paris from any number of threats. But it's built on the base of the Japanese magical girl genre (mahō shōjo), with characteristics including a school cast, animal companions, a gathering of a team of superheroes, and end-of-episode collages.
Teen Titans (Available to stream on HBO Max and Prime Video)
Teen Titans is the perfect kid-friendly entryway into the DC universe. While the cast of heroes stays consistent throughout the series, each season features a different primary character narrative. Batman's beloved sidekick Robin kicks things off, but Cyborg, Beast Boy, Starfire, and Raven all get their time in the spotlight.
The kids who started watching Pokémon on TV and collecting cards in the late 1990s now have kids who watch Pokémon on TV and collect cards and watch Pokémon movies and play Pokémon videogames. This rising generation of Pokémon trainers will have a different relationship with the franchise, however. 2023 will see new protagonists enter the stage as Ash Ketchum and Pikachu will make way for brand-new protagonists.
This article was originally published on