This Page Will Self Destruct
Has Mission: Impossible Beaten James Bond At His Own Game?
As Dead Reckoning Part One becomes the biggest Impossible movie yet, has the Cruise missile really dethroned 007?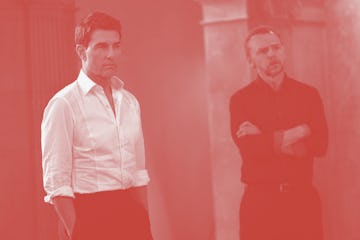 Paramount
A superspy launches a motorcycle into the air, fights on top of a train, and uses last-minute gadgets to save the day. Is it a James Bond movie? Nope. It's Tom Cruise in Mission: Impossible – Dead Reckoning Part One. And as these impossible stunts get bigger, and the spy action slicker, a lot of folks are asking the obvious question: Is Mission: Impossible just the new James Bond?
Right now, we're in a lull between James Bond movies. Daniel Craig played 007 for the last time in 2021, there's no word on who will play Bond next nor when the next movie will come out. For anybody looking for globe-trotting espionage and action, that's no problem, though, because the Mission: Impossible movies exist. And, with the release of the seventh M: I movie, Dead Reckoning Part One, it's pretty hard to deny that Ethan Hunt has bested Bond.
Dead Reckoning — out now in theaters — gives Tom Cruise's now-iconic character a new impossible mission. A rogue, self-aware A.I. known only as "The Entity" is threatening global stability, and Ethan and his allies must rush to destroy it before it does further damage — or any number of governments or terrorists figure out how to take control of it. Ethan travels around the world, gets in fights, uses fancy spy gadgets, faces off with a new villain (Esai Morales as Gabriel), and there's a new beautiful woman accompanying him (Hayley Atwell's Grace.) Ethan might lack Bond's British accent and sophistication, but other than that, Mission: Impossible is checking all the Bond boxes.
How Mission: Impossible transformed
It wasn't always this way. The Mission: Impossible we know at today's box office isn't the Mission: Impossible of the original TV show that the current films are based on. That show, which premiered on CBS in 1966 and ran for seven seasons, was likely inspired by the Bond movies in some way (Dr. No hit theaters four years before the show began) but was much more of a heist series than a spy one. The focus is on the Impossible Missions Force, a team of deliberately under-developed agents who would make an elaborate plan to pull off some tricky mission every week. Notably, there was no Ethan Hunt in the TV show — both literally and figuratively. There was no character with that name in the show, and there also wasn't really a "main" character. Maybe Martin Landau's Rollin or Barbara Bain's Cinnamon would get greater focus on one episode or another, but the show was about the IMF team. The movies are about Ethan Hunt as much as the Bond films are about James Bond.
By starring Cruise and inventing Hunt as a protagonist, the 1996 Mission: Impossible already makes the property much more like Bond. It goes even further by offing Ethan's team in the opening act and revealing that Jon Voight's Jim Phelps, who was a protagonist in the show, was a villainous mole. The stakes were higher and the action and stunts more elaborate — though nowhere near as much as they would be in later movies.
Still, while the first Mission: Impossible and its two sequels were more Bond-esque than the show, they weren't quite ready to take down 007. The second and third films, directed by John Woo and J.J. Abrams, respectively, had their own vibes and aesthetics. Mission: Impossible was an action franchise, but not THE action franchise.
Hunt Becomes Bond
But, that changed with the fourth film 2011's Ghost Protocol, which was directed by Pixar legend Brad Bird and was partially written by Christopher McQuarrie, the man who would go on to be Cruise's big creative partner and director of the next four Mission: Impossible movies and, that other Tom Cruise blockbuster everybody loved.
Ghost Protocol was a slick action flick, and it introduced the concept of an ever-escalating series of stunts that are as impressive to watch on the big screen as they are to learn about behind the scenes. Cruise actually climbed the tallest building in the world for Ghost Protocol, he actually hung to the side of a plane for Rogue Nation, he actually flew a helicopter through a tight gorge in Fallout, and he actually rode a motorcycle off a cliff for Dead Reckoning Part One.
There are exciting action scenes in James Bond movies, but Mission: Impossible has a signature stunt-driven style that, lately, seems to surpass Bond. And, the more recent movies have benefitted from a sense of consistency that has allowed audiences to get to know Ethan and establish a cast of supporting characters. Ving Rhames' Luther Stickell and Simon Pegg's Benji Dunn are the deepest characters to ever grace the silver screen, but they're likable, familiar faces that help make Mission: Impossible — which began as a TV show that eschewed character development in favor of the mission of the week — feel like an ensemble series compared to Bond. Sure, 007 has Q and Felix Leiter, but they're inconsistent, and until the Craig films were archetypes who were allies to 007 more than they were characters to latch on to.
Don't get the idea that Mission: Impossible has looped back around to being a fully team-based franchise like the TV show was. This is still Ethan Hunt's series. And, more than that, it's Tom Cruise's series. And it's perhaps on the Tom Cruise point where we learn that maybe Mission: Impossible will never be able to fully best Bond despite Dead Reckoning's dizzying success. A half-dozen people have played 007, and they're in the process of casting a new actor for the role. Tom Cruise is Ethan Hunt. The character — and by extension, the franchise — fully rests on not only his star power but his willingness to push the envelope with astounding stunts.
As it currently stands, Mission: Impossible is out-Bonding Bond in the stunts. But, at this point, the franchise is almost over. Dead Reckoning Part Two is stated to be the 61-year-old Cruise's final outing with the IMF. It's hard to imagine Mission: Impossible without him, at this point. (Indeed, Ghost Protocol was intended to hand the torch off to a new character played by Jeremey Renner. That obviously didn't stick.)
Mission: Impossible's success seemed fully tied to Cruise, and when he departs, that might be it. Bond, though? As the last line of so many films confidently promises, "James Bond will return." It's hard to imagine us ever feeling that way about Ethan Hunt.
Mission: Impossible: Dead Reckoning Part One is out in theaters now.
This article was originally published on