Too Bad Michael Keaton Can't Just Have His Own New Batman Movie
The Flash trailer unleashes DC's multiverse. But at what cost?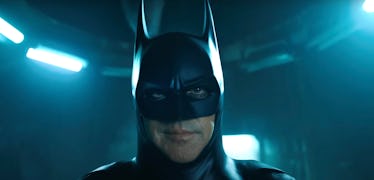 Warner Bros
I'm Batman! Yep. Michael Keaton is finally back in the new trailer for DC's The Flash. Keaton easily stole the show in the trailer, which dropped during the Super Bowl on February 12, 2023. But, '80s and '90s Batman fans probably have one question: Can we maybe just let Keaton have his own new movie?
The plot is all about the Flash breaking the multiverse in an attempt to prevent his mother's death. Yes, just like several Marvel projects, DC Studios is getting into infinite alternate realities, which easily allows for old-school actors to return, playing their beloved characters in a different dimension. Marvel's Spider-Man: No Way Home pulled this trick off particularly well in 2021, by convincing us that one magic wish had accidentally ruptured spacetime, and allowed Tobey Maguire and Andrew Garfield to join Tom Holland in the ultimate Spider-Man team-up. Now, it's DC's turn. Sort of.
The Flash (2023) Trailer
In both DC and Marvel comic books, crossovers to different timelines and dimensions are common, even if the trend seems more recent in film and TV superhero media. Arguably, DC perfected the notion of a huge multiverse team-up in 1985, with the multipart comic-book story Crisis on Infinite Earths, which not only allowed for a huge amount of crossover between different contradictory canons but was also designed as a way for DC comics to streamline and reset their internal continuity. In fact, at the time, writer Marv Wolfman wanted this multiverse crossover to reduce the emphasis on the multiverse in DC comics going forward. The idea of using a multiverse crossover as a "reset" button happened again in 2011, with the publication of the miniseries Flashpoint, which led the way for another large reboot at the time, "The New 52."
The new film The Flash will borrow several elements from Flashpoint, and has a similar real-world goal: to reboot the continuity of the DC movies. Current DC Studios head James Gunn has made it clear that this film "resets the entire DC universe." So, once again, DC is using the multiverse to clean up its mess. Some of this scans as slightly retroactive simply because it feels very unlikely that The Flash was always designed to be a vehicle for giving DC movies a makeover.
Delayed by several years because of the pandemic, The Flash has been beset by one other very large behind-the-scenes problem: Its titular star, Ezra Miller, who headlines as not one but two versions of Barry Allen/The Flash in the new film. And here's where things get uncomfortable. Even if you have had your head buried in the sand for the past year, there's a good chance you've heard Ezra Miller has been causing trouble. The controversial actor was arrested no less than four times in 2022, on a variety of charges, including burglary, assault, disorderly conduct, and harassment. They've also been accused of grooming minors by two separate families. And, in a jarring report from Rolling Stone, it was revealed that Miller housed a mother and her three children on their ranch, which allegedly created a dangerous environment for children because of several unattended guns and bullets lying around, as well as the fact that the adults, reportedly, smoked marijuana inside, in front of the small children (including a 1-year-old) frequently.
Miller has pleaded guilty to some of the lesser charges but has denied others. In August 2022, Mille released a blanket apology stating: "I want to apologize to everyone that I have alarmed and upset with my past behavior. I am committed to doing the necessary work to get back to a healthy, safe, and productive stage in my life." While many speculated that DC would pull the plug on The Flash movie (as it bizarrely did with Batgirl), the movie is clearly coming out, with everybody just hoping the world can collectively get over the Ezra Miller thing.
Will this be the case? Well, Michael Jackson remains pretty clearly uncanceled, Mel Gibson still seems to find work, and there are all kinds of other controversial artists, actors, and musicians making products that a lot of people enjoy. Most parents are probably still unsure exactly how we should feel about watching Pirates of the Caribbean with our kids, if at all. The point is, this kind of thing happens all the time, and when it comes to blockbuster movies, many of us, especially if we're busy worrying about important things — like packing our kids' lunches or the relative safety of their school — can't really be bothered to sort this all out. Meaning, there will be a huge part of the population who won't think about Ezra Miller's behavior, or, if they do, simply disassociate pop art from the troubled artist. Which is normal.
And yet. Ezra Miller's movie is now the reason we're getting our own childhood Batman back on the big screen. This should be a moment to celebrate and take our kids to the theater, but it feels less clear-cut. Many parents will be, understandably, conflicted. It's one thing to know that Robert Downey Jr. once beat a massive drug problem back in the '90s. It would be something else entirely if he was doing drugs in front of babies and when a new Iron Man movie came out. Whether it's right or wrong, kids do associate superheroes with the people who play them. And, so do parents.
Imagine if Spider-Man: No Way Home had brought back Tobey Maguire, but that somehow, Tom Holland's Spidey had not been in a single Marvel movie that you'd liked and that he was also facing several criminal charges in real life. This is essentially what is happening in the first trailer for The Flash. The movie looks decent and even exciting. But Ezra Miller is clearly so much the focus, they're in it twice, playing two versions of themself! Apparently, nobody thought to call Grant Gustin, the star of the long-running CW version of The Flash. He seems like a nice guy.
Those who grew up in the '80s and '90s are doubtlessly psyched about seeing Michael Keaton back as Batman, but, with good reasons, many DC fans, and parents, are less than pumped about the focus on Ezra Miller. If the goal was to draw in older DC fans, people who loved Michael Keaton as Batman, one wonders why Michael Keaton can't just have his own new Batman movie. Using multiverse shenanigans to create nostalgic casting stunts is all well and good. But, at the end of the day, nobody really cares how you justify bringing back great actors. Bringing Keaton back as Batman is a cool idea. But, maybe not like this?
The Flash might be an objectively cool superhero movie. And yet, many families will have to do some serious mental gymnastics to figure out how to feel about the hero at the center of it all. At this rate, the new Superman movie can't come fast enough.
The Flash hits theaters on June 16, 2023.