Here's the Real Reason Michael Keaton Stopped Playing Batman After 1992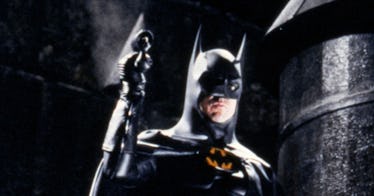 GETTY
Long before the days of Ben Affleck and Christian Bale, Michael Keaton was the hero who took on the title of Batman. And in a recent interview, Keaton revealed exactly why he decided to walk away from playing the Dark Knight after just two films.
Keaton starred in Batman and Batman Returns, which were both directed by Tim Burton. He was slated to play the caped crusader again in Batman Forever but eventually walked away because he disagreed with director Joel Schumacher making the movie less grounded and more campy.
According to Keaton, the "secret" to playing Batman was focusing on the man behind the mask: Bruce Wayne. Figuring out "[w]hat kind of person does that" allowed him to access the darkness in the story, which is what made him such a beloved Batman. Keaton and Schumacher met to try and discuss the direction of the franchise and before long, Keaton realized that their visions were incompatible and decided to walk away.
"I don't understand why everything has to be so dark and everything so sad," Schumacher said to Keaton.
"Wait a minute, do you know how this guy got to be Batman?" Keaton replied. "Have you read… I mean, it's pretty simple."
While Schumacher ended up making two Batman movies, his silly take on the character proved disastrous, with Batman Forever and Batman & Robin widely considered the worst of the franchise. As a result, Christopher Nolan took over and brought Batman back to his gritty roots with a hard reboot that was a massive hit with fans and critics.
Thirty years after his final Batman performance, Keaton will now be returning to the role in The Flash, which is set to hit theaters on November 4. He is also expected to reprise the character in the upcoming HBO Max series Batgirl.
This article was originally published on