26 Years Ago One Game-Changing Song Was So Big It Changed Hip-Hop Forever
They won't let you remember.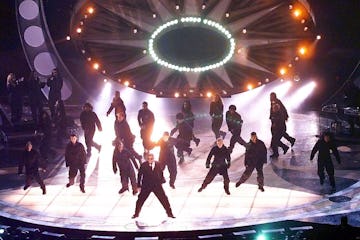 TIMOTHY A. CLARY/AFP/Getty Images
We may receive a portion of sales if you purchase a product through a link in this article.
By the mid-1990s, Will Smith was a star. Over a 10-year span, he'd parlayed a handful of popular DJ Jazzy Jeff and The Fresh Prince albums into mainstream success with his even more successful Fresh Prince of Bel-Air sitcom. When the show wrapped in late 1996, Smith had jumpstarted a grownup glow-up over the past two summers with staring roles in Bad Boys and Independence Day, but questions remained as to whether or not Will Smith's career would have the staying power to maintain a third act.
Not only did Smith stick around, he ascended straight to the top of the A-list. It's reasonable to argue that he stamped he solidified his with the release of his "Men in Black" single on June 3, 1997 — nearly a full month before the release of the film whose soundtrack it headlines. In fact, the "Men in Black" single anchored two blockbuster Will Smith projects. Yes, it's the most popular song on the Men in Black soundtrack — a record that also features Snoop Dogg, Alicia Keys, Nas, and A Tribe Called Quest — but it was also the first single from Big Willy Style — his debut solo album. Let that sink in. Will Smith had two massive albums in 1997, and both used "Men in Black" to essentially promote each album. Nine million copies of Big Willy Style have been sold since the Fall of 1997, it accounts for two of Smith's Grammy wins. Solo Performance at the 40th Grammy Awards.
In hindsight, "Men in Black" set a family-friendly template that would keep Smith squarely in the public eye for the next 15 years. He bullseyed a PG sweet spot with his music that would help him maintain a modicum of street cred, while at the same time pumping out hits that could be played on the radio and at public events without editing any of the lyrics. For a period, he was the king of catchy rap tunes that people wanted to sing and dance to all summer long.
And while Smith might not win a dance-off with the likes of Janet Jackson or Usher, he can modestly and enthusiastically cut a rug akin to the cool uncle who keeps things fun at the family picnic. Those dad-dancing skills are on full display in the "Men in Black" music video where Smith puts his own spin on the Electric Slide next to a singing CGI alien that's pure late-90s movie magic.
Attaching the song and its music video to a blockbuster movie was a symobotic relationship that made everything into a monster success. This video — which won the 1997 MTV Video Music Award for Best Video from a Film, and received nominations for Best Male Video, Best Choreography, and Best Special Effects — served as a continuous movie promo for a film that ended up nearly earning nearly $600 million at the global box office.
And while Puff Daddy is enthroned as the king of hip-hop samples, "Men in Black" incorporates hook that is both witty and has cross-generational appeal in Patrice Rushen's 1982 R&B hit "Forget Me Nots." With "neuralyzers" — the fictional device that erases people's memories following a bright flash— playing such a prominent role in the film, the Men in Black hook twists the original line "To help you to remember" to "They won't let you remember" in a deft sleight of hand.
Twenty-six years after the song's release, it would take a massive neuralyzer to make us forget Will Smith. The Fresh Prince of Bel-Air has not only remained popular in syndication but it's birthed a dramatic reboot as well. Smith has amassed an entire catalog of successful films, including King Richard for which he won the Oscar for Best Actor in a Leading Role. His memoir has sold over a million copies. His kids are both stars in their own right. The man and his family are entrenched in the cultural lexicon. How Smith will be remembered in another quarter decade is up for debate. But if anyone understands the blueprint for reinvention and has the tools to pull it off, it's Will Smith.
Men in Black (the movie) is currently streaming on Max.