Will Smith Just Got Real About His Dad Bod and We Love It
No shame in the dad bod game.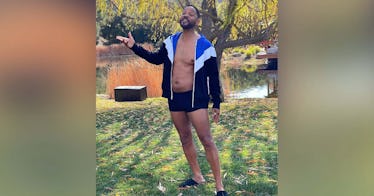 After more than a year into lockdown, it's no secret that most of us have likely put on a few pounds. And that includes Will Smith, as the Fresh Prince revealed his dad bod to the world on Instagram yesterday.
Smith posted a semi-shirtless photo along with the caption: "I'm gonna be real wit yall – I'm in the worst shape of my life."
While Smith's caption jokingly frames his quarantine body as a bad thing, I would argue that his dad bod is sincerely worth celebrating for a variety of reasons.
First of all, Smith is a 52-year-old father of two and his new look properly reflects that. Having been a megacelebrity for most of his life, Smith has always been judged under fame's unforgiving spotlight and has likely put in exorbitant amounts of time and money into staying in statuesque shape.
Now, the pandemic has finally allowed Smith to embrace looking like a normal dude and it's clear that his fans are on board with him entering the dad bod phase of life, as his post received nearly five million likes in less than a day. Questlove even called it "the most amazing post in the history of social media."
And Smith's honesty about his dad bod is also good for the Average Joe, as it reminds all of us how impossible it is to stay in shape, at least in comparison to mega-shredded celebrities like Mark Wahlberg and Dwayne Johnson (both of whom are literally paid millions of dollars to be unrealistically jacked, put in several hours a day at the gym, and are cooked healthy food by professionals at all times).
So next time you are taking a good hard look at your increasingly flabby torso in the mirror, don't be too hard on yourself. Just remember that if a dad bod is good enough for Will Smith, it's good enough for the rest of us.
This article was originally published on