10 Years Ago, The Perfect Chill-Out Rock Album Took Everybody By Surprise
Kurt Vile's Walking on a Pretty Daze is even better now than it was in 2013.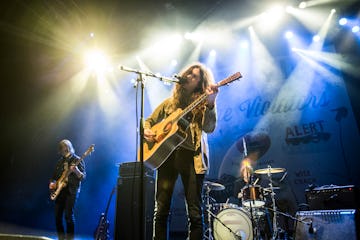 Rob Ball/WireImage/Getty Images
We may receive a portion of sales if you purchase a product through a link in this article.
It's hard to believe that 2013 was ten years ago. The music of the previous decade of the 21st century doesn't exactly feel like it's from the past. At least not yet. If you hear Bruno Mars's "Locked Out of Heaven" in the grocery store, your first thought isn't, wow that song came out 11 years ago. You feel like it's a new song. For those who still hold a torch for a certain kind of indie rock, this gets even weirder: Can you believe it's been ten years since Kurt Vile dropped Walking on a Pretty Daze? On April 9, 2013, Vile released a record that proved his unique tunes were going to stick in our heads for a long, long time. But were we even ready for it then?
When it comes to indie rock fans in the 21st century, you've either got people who love Kurt Vile or people who've just not really listened to him yet. If you like this kind of music, then disliking Kurt Vile seems nuts. Instead, it's more interesting to talk about which of his albums somebody should listen to to get into his stuff. And if you're about to have one of those conversations, here's a good reminder as to why Walking on a Pretty Daze is so important.
In half-remembered rounds of double IPAs with your dad-friends, somebody (maybe you) has said that Kurt Vile is the guy from The War on Drugs who now makes solid solo albums. This is accurate but also makes you think that The War on Drugs is The Beatles and Kurt Vile is McCartney or something. This fallacy might lead the uninitiated to believe that Kurt Vile's albums are somehow worse or inferior to The War on Drugs.
But that's not accurate. Kurt Vile's War on Drugs collaborator, Adam Granduciel played with Kurt Vile's "solo" backing band, the Violators, even after Vile left The War on Drugs and neither of these brilliant musicians has any animosity toward the other. That said, 2013's Walking on a Pretty Daze was the first of Kurt Vile's solo albums on which Granduciel did not play. So, if you squint, even though it was Vile's fourth solo album overall, it's the first one in which, formally, there's no connection to The War on Drugs at all.
At the time it was released, most serious music critics talked about Walking on a Pretty Daze in the context of Kurt Vile's existing career to that point. The general take was that his 2011 break-out album, Smoke Ring For My Halo was amazing, but that Walking on a Pretty Daze was better, more mature, and more artistic. Ten years later, this take feels right, at least superficially. But, it's also just information. Today in a world in which Kurt Vile has released several other good albums — like Bottle It In and Speed, Sound, Lonely KV — talking about one of his best albums in a kind of chronological context feels off. At the risk of making a silly analogy connected to another famous artist named Kurt — nobody cares that Slaughterhouse-Five was Kurt Vonnegut's sixth novel. It's just good.
That's what Walking on a Pretty Daze is though. It's Kurt Vile's Slaughterhouse-Five. It's an album that is out of time. It's not timeless, because that word has weird connations with rock music. Instead, Walking on a Pretty Daze is simple, otherworldly, and not tied to 2013 in any way at all. More than any of Vile's other albums, Walking on a Pretty Daze feels like his version of a Bob Dylan record, minus any references that could date it. And yes, I'm aware there's a song on this album called "Air Bud," which, in theory, references a 1997 movie about a dog who plays basketball, but I'm sticking with what I'm saying. The famous Oasis mega-hit "Wonderwall" was, in theory, a George Harrison reference, but (correctly) nobody is aware of that or thinks about it ever.
Vile's songs on Walking on a Pretty Daze are famously on the long side, but that's kind of the point. It's tempting to pick out stand-out tracks — like the pseudo title track "Walking on a Pretty Day" — but what makes this album great is that it is an album. You never skip around on this record looking for your favorite songs, because it's designed to be heard front to back. It's the kind of album you can put on in the background, but that you can't ignore. Songs like "Pure Pain" will get into your brain, but other songs, like the chilled-out closer "Goldtone," will alter your mood more subtly. Kurt Vile's brilliance is the ability to make unassuming music that seems like it's just kinda there. Nobody would ever accuse Walking on a Pretty Daze of being a groundbreaking rock album. It's too laid back to care about trying to reinvent anything.
But, within that casual shoulder shrug is where the music gets you. Listening to Walking on a Pretty Daze is like getting beers with an old friend and just shooting the sh*t for a while. Before you know it, the entire night has gone by, and, oddly, you've been deeply changed even if you don't remember how or why. Vile's music on this album captures that mood with a unique kind of alchemy. All his albums are great, but Walking on a Pretty Daze may be even more potent now than it was ten years ago. Because, in some ways, it's just now starting to make sense.