We're All Talking About The Wrong Kelce Brother
The doc 'Kelce' follows Jason Kelce and his family as they navigate the challenges of the NFL, marriage, and parenting. It's a good sports documentary, but a better family film.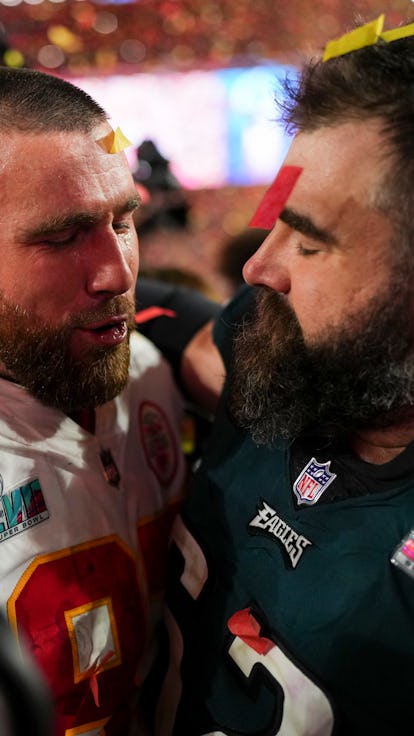 Cooper Neill/Getty Images Sport/Getty Images
Following the success of sports documentaries like Sunderland Til I Die and The Last Dance, the genre of behind-the-scenes sports doc has exploded over the last three years. Kelce is one of those movies. It's a new documentary film that follows Philadelphia Eagles Pro Bowler Jason Kelce through the entirety of the 2022 season through his Super Bowl LVII match-up against brother Travis Kelce and the Kansas City Chiefs. Some may have doubted the wisdom of centering the film on the "boring" Kelce brother — after all, Jason is a happily married football center for the Eagles and notably not Taylor Swift's rumored boyfriend, his brother, Chiefs tight end Travis Kelce. But that decision makes for surprisingly compelling viewing.
Yes, Travis has gained legitimate superstar status with national ad campaigns, a turn at the wheel as host of SNL, and is, of course now a subject of constant public intrigue (and outfit critique) due to his relationship status with Taylor Swift. Meanwhile, Jason is the down-to-earth family man living a quiet and remarkably normal life aside from the 20 Sundays each year when he goes to work in front of 50,000-plus screaming fans. That tension is remarkable.
When Kelce kicks off, viewers are quickly introduced to Jason's wife — and quite frankly, the film's star — Kylie, who is pregnant with their third daughter. Jason is an involved father. One of the most pressing issues he wrestles with throughout the documentary is the effects that a 12-plus-year NFL career will have on his ability to parent going forward. He also struggles to be an emotionally present partner and dad during the football season, but he tries: At 35, Kelce is shown struggling to get down onto the floor to play with his daughters Wyatt (3) and Elliott (1), demonstrating dedication to doing with a smile on his face even at his most banged up. After all of the collisions he's absorbed over the years, there are times he can hardly walk without taking anti-inflammatory medicine.
And he is very aware that as a lifelong football player, CTE looms as a significant threat to his mental and emotional health.
"We idolize living as long as possible and as healthy as possible — I don't know that that's necessarily the meaning of life," he says at one point. "And if I get CTE, and I can't interact with my grandkids, I would still say playing 12 years in the NFL, making my family super-prosperous, and being an influential member of at least the city of Philadelphia is a good tradeoff."
Kylie largely leaves Jason to decide whether or not his career will continue for a 13th year, but it's clear she'd prefer for him to retire. Some of the most resonant scenes in Kelce are moments when she's understandably struggling to parent the girls on her own in support of Jason's career — whether she's trying to quietly entertain the girls on the living room floor so Jason can record his podcast he co-hosts with Travis in the next room, or when she's struggling to get them up and dressed to make it to the Super Bowl on time, or when she became a topic of national conversation after Jason lets it slip on the podcast that Kylie's obstetrician would accompanying her to the Super Bowl since she's 38 weeks pregnant. Kylie demonstrates how being a genuinely supportive partner has its challenges. When Kelce allows us to see the true nature of those challenges, the storytelling shines.
Perhaps one of the most touching moments of the documentary comes in the aftermath of the Philadelphia Eagles' defeat at the hands of the Kansas City Chiefs, after the end of a long season where Jason questions whether or not he should say goodbye to the sport. Jason Kelce is talking to daughter Wyatt, who has a pacifier in her mouth, and juggling Elliott.
"Dad, you didn't win," she says.
"I didn't?" He asks. "Oh, man."
"Uncle Travvy winned," she says back. When mom Kylie asks Wyatt what she wanted to happen, she says: "I didn't want Uncle Travvy to win."
And in one moment — or just a few sentences, really — Jason Kelce reveals a parenting ethos that's only created through defeat: How to gracefully handle loss, especially when it's at the hands of someone you love, someone you're rooting for, too.
"That's alright. Uncle Travvy got it," he says. "We can be happy for Uncle Travvy."