Yep, We're Defending Travis Kelce's All-Denim Taylor Swift Date Night Outfit
The Canadian tuxedo ~can~ work.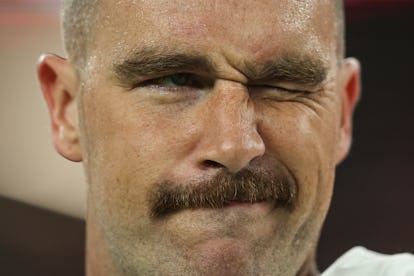 Michael Owens/Getty Images Sport/Getty Images
It was the outfit that broke the internet: on Sunday, September 24th, the megastar Taylor Swift attended the Kansas City Chiefs game, in which the Chiefs took on the Chicago Bears at Arrowhead Stadium. She was there, reportedly, to cheer on her rumored boyfriend, Chiefs tight end Travis Kelce. Understandably, there were just about a million eyes on Swift — who was in the VIP box, sitting right next to Kelce's mom, Donna — and about just as many on Kelce (but probably not as many.) Naturally, the spotlight was super bright on the pre and post-game outfit Kelce rocked: a "painter" inspired classic Canadian tuxedo designed by Kid Super.
Kelce played an amazing game — including a monumental touchdown, which Patrick Mahomes, Chiefs QB, basically confirmed was in part due to the pressure Kelce felt to show up for the Swifties. And, yes, there were several moments in the game where it looked like he was finding her in the crowd to give a smile between plays.
But it was what happened after the game that created a social media cluster-cuss. Not only because there was official confirmation Kelce and Swift are at least hanging out, but because when the two were leaving the stadium, people got a look at the outfit Kelce chose to wear for his date night with Swift — a matching denim look ... aka a Canadian tuxedo.
Social media, as it often does, wasted no time in delivering its verdict, with many users clowning the outfit and poking fun at his "Canadian tuxedo.:
"This spray painted denim garbage makes him look like a giant teenager," one person wrote on X, previously known as Twitter.
"Must been painting at home and forgot the game was today," another person wrote on social media. "He didn't have time to change."
"This outfit is even more wild knowing he was possibly with Taylor Swift before and that's what he chose to wear," someone else added.
The look, designed by Kid Super, would run you about $600 in total: $285 for the pants and $295 for the jacket. And, hilariously, as the outfit went ultra-viral on the platform, the Kid Super brand capitalized on it, changing the title of the outfit from "Bedroom Painting" to "1989 Bedroom Painting," a nod to one of Taylor Swift's albums, one eagle-eyed investor noticed.
However, while the internet was quick to make fun, a full-throated defense of the Canadian Tuxedo, however stylized, must be made, however breifly.
Kelce's look is right for several reasons: matching denim is on-trend. The fit — baggy pants and a slightly oversized look on the jacket — totally fits the style moment, and Dadcore style in general. GQ even called for the comeback of the Canadian Tuxedo in 2022: according to the fashion magazine, they've declared it's time for us all to embrace this look — so long as you style it correctly.
While Kelce isn't a dad yet himself, the Canadian tuxedo has long been embraced by fathers all over because it's cool, casual, rugged, and attractive. It's a look that suggests you're not afraid to roll up your sleeves and get your hands dirty, a quality that many find undeniably appealing — especially dads themselves. For the most part, it's an effortless trend to pull together, and there are a million ways to style the look.
If you saw Kelce's outfit and scrunched up your nose, we get it—it's bold. But he's a bold guy. He openly revealed he was crushing after Taylor and even made her a friendship bracelet when he saw the Eras tour that he admitted he didn't get to give to her. If anything, his open and abashed boldness is what got him here today.
BUT, if bold and patterned isn't your thing, there are a million different ways to go with the Canadian Tuxedo. Wrangler, Levi's, and the like sell identical washes of their signature jackets and jeans, much more affordably, which you could easily pair with a white tee like Kelce does or with a turtleneck, plaid button up, or, hey, maybe a Chiefs jersey or an old-school Chiefs tee to really tie-in the dad look. Or if you'd want to rock the fit as separates, that works, too — you can try pairing the pants with a solid light denim jacket, or rock the jacket with more neutral denim pants. The point is, there's been some bad blood on Double Denim. Time to shake it off.