How to Stream Classic Looney Tunes Online Right Now
Need your fix of old school Bugs, Daffy and Porky Pig? Here's where to look.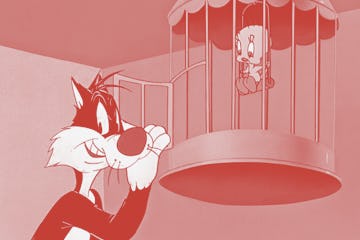 Warner Bros
We may receive a portion of sales if you purchase a product through a link in this article.
The animated anarchy of Looney Tunes hit the mid-twentieth century like one of those falling anvils dropped by the Coyote on the Roadrunner. Throughout the 1930s and 60s, the Warner Bros Entertainment Company produced one animated nugget of comedy gold after the other, introducing us to a cast full of icons. From Bugs Bunny to Daffy Duck, the characters are memorable mostly because they are so outrageous. But where can you watch the vintage adventures of Porky Pig, Pepe Le Pew, Wile E. Coyote, Road Runner, and, the biggest badass of the bunch, Tweety Bird?
If you do a cursory look online, you might only see the newer stuff — specifically on HBO Max. So where can you find the older, classic stuff? Here are the only two places online to watch classic Looney Tunes; one that costs a little bit of money and one that is HBO Max.
(Looney Tunes is one of Fatherly's 100 Best Kids Shows Of All Time. Check out the list here.)
Boomerang
With a Boomerang subscription of $5.99 a month, you and your kids can watch a library of classic Looney Tunes episodes from the original series, going all the way back to the original Bugs Bunny short. Boomerang's layout is kid-friendly too, so kids can log in and see some of their favorite picks of the original show. The nice thing about Boomerang is that it groups the Looney Tunes by character. So, you can just watch a selection of Daffy Duck episodes or only limit your kid to Sylvester and Tweety. Honestly, for younger kids, this is probably the best way to go. That said, watch out for that autoplay feature. Some of the older episodes feature Sylvester meeting Satan in Hell. The episode is called "Satan's Waiting," so you've kind of been warned, but still.
Overall though, the fact you can group the different Looney Tunes shorts by character, and that you can easily find most of what you're looking for, makes Boomerang easily the number one best choice for watching Looney Tunes with ease. It's especially great with a Roku.
Get a huge chunk of old Looney Tunes on Boomerang.
HBO Max
When it launched in 2020, HBO Max seemed to be the permanent home for all things Looney Tunes, forever. After all, Warner Bros owns Looney Tunes, and HBO Max is funded by Warner Bros. And yet, complicated economics and strange legal decisions mean that in 2022 and 2023 HBO Max has become a less-than-reliable source for classic Looney Tunes. The reasons why are numerous. But, suffice to say, there used to be 500+ Looney Tunes shorts on HBO Max, but now there are only 250.
Here's a smattering of classic Looney Tunes on HBO Max.
Looney Tunes on DVD
Increasingly, it's looking like buying DVDs or Blu-rays of your favorite shows or movies might be a good way to ensure you watch these things on demand. With the strange state of streaming right now, Looney Tunes DVDs may be the best way to go.
This article was originally published on