10 Ways To Celebrate Pride Month With Your Kids
Pride parades are great, but there's so much more to do.
by Max Lubbers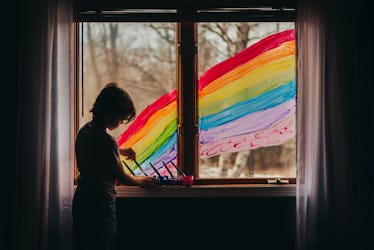 Elizabethsalleebauer/Getty
Pride Month gives LGBTQ+ people space to celebrate authentic love and life — and to remember our history. The first Pride parade was organized to celebrate the anniversary of the Stonewall Riots. In 1969, a group of queer people fought back against a police raid of Stonewall Inn, a gay club in New York City. Each June, we pause to commemorate this time.
As we gear up for Pride this year, there are lots of ways to share moments with your family while also honoring the meaning of Pride.
While you think of the generations that came before you, you may also be thinking of how to teach the generations after you. So here's a list of activities — some silly, some serious — that you and your kids can use to celebrate and connect this Pride.
Resources for LGBTQ+ Families
Pride doesn't stop in June. Here are some great resources to help you support your newly out or still-exploring child year-round:
This article was originally published on