Phew! The Best Animated Movie Director Ever Is Already Working On A New Movie
There's more yet to come from Hayao Miyazaki.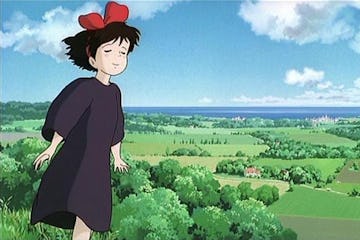 Studio Ghibli
If you were mourning the potential end of new incredible animated films directed by Hayao Miyazaki and Studio Ghibli, we have some much-needed good news. Despite rumors he was going to be done making masterpieces following the completion of The Boy and the Heron, which has yet to hit U.S. theaters, it turns out he's not ready to hang up his hat. Even better, he's already working on a new movie.
Despite previous chatter that he would be retiring from filmmaking, Miyazaki, the renowned director from the Japanese animation house Studio Ghibli, isn't done making movies after all, according to IGN.
82-year-old Miyazaki has been touted as one of the best animated movie directors ever by several critics for his films such as My Neighbor Totoro, The Wind Rises, and Spirited Away. He had previously taken a "retirement" from filmmaking following the release of The Wind Rises in 2013. However, a decade later, he announced a new movie titled The Boy and the Heron, which hasn't hit U.S. theaters yet but has been released in Japan, where it's already being called a "masterpiece."
Despite the rumors that The Boy and the Heron would for sure be Miyazaki's last film, for real, it's possibly not. During an interview with Liberation, Toshio Suzuki, a producer at Studio Ghibli, shared that Miyazaki isn't retiring, and he's already working on the next project.
"He's thinking about this next project every day, and I can't stop him — in fact, I've given up," Suzuki said, per IGN. "I no longer try to dissuade him, even if he were to make a failed film. In life, it's only the work that delights him."
Studio Ghibli executive Junichi Nishioka echoes this, telling CBS News that Miyazaki is already working on his next film. "He is currently working on ideas for a new film. He comes into his office every day and does that. This time, he's not going to announce his retirement at all. He's continuing working just as he has always done."
While Studio Ghibli, under his and the late, great Isao Takahata's guidance, has produced a wide range of cinematic gems, not all of them are exclusively for children. Titles like The Wind Rises, Porco Rosso, and Princess Kaguya cater to a more mature audience — teenagers and adults — providing thought-provoking storytelling and artistic brilliance.
But of the dozens of titles released under Studio Ghibli (not all by Miyazaki) more appropriate for children — Kiki's Delivery Service, My Neighbor Totoro, Spirited Away, Ponyo, The Cat Returns, etc, all of which offer beautiful stories. They also take the audience of children seriously, allowing them to take part in complicated words, big concepts, and beauty. They're also, let's say, a refreshing balm against the world of Peppa Pig and Cocomelon. Plus they serve as a good introduction to the studio's work to hold them until they're old enough to unlock the rest of his masterpieces.
As for what The Boy and the Heron — and the mystery new project — will bring in terms of theatrics and content remains in our imaginations for now — it looks like it will be for older audiences — we're content just knowing a new Miyazaki project is coming. Hopefully, this next one is as joyous as Howl's Moving Castle.
The Boy And The Heron is set to release to theaters and IMAX on December 8. Watch the trailer for the mysterious film here.