Miyazaki's Latest — And Possibly Last — Animated Movie Looks Gorgeous
Miyazaki's latest film, The Boy And The Heron, has debuted across the pond with no marketing. Now, U.S. audiences can get their first look.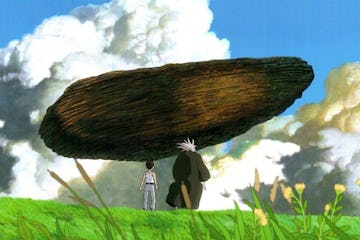 Hayao Mizayaki has claimed to be retired before. In 2013, with the release of his Studio Ghibli film The Wind Rises, Miyazaki announced that he would step away from filmmaking for good at the ripe age of 72. (In that retirement, he still worked on a short film.) Just a decade later, surprising possibly no one, Miyazaki announced his supposed final-final film with Studio Ghibli, which he has apparently working on since 2016.
That film, called How Do You Live? in Japan will be released as The Boy And The Heron in the United States. It was released in theaters in Japan in mid-July. American audiences should expect to see the film hit theaters at some point in 2023. But unlike other Ghibli films, this movie was released with absolutely no promo. It might seem risky, but for a guy who has made a million films over several decades of his career, and has surely changed the landscape of animation internationally, the risk was intentional. (And it helps that it apparently opened to huge numbers in its opening weekend in Japan, per Kotaku.)
"No trailers or TV commercials at all …Deep down, I think this is what moviegoers latently desire," Miyazaki said of his decision to not release any ads about the movie.
While international audiences did get a poster of the movie to chew on, the rollout of the movie has otherwise stuck to that level of mystique. We know that the movie is based on a 1930s novel called How Do You Live? by Genzaburo Yoshino and that book, per Wikipedia, "follows a 15-year-old boy named Junichi Honda, nicknamed Koperu, and his uncle as the youth deals with spiritual growth, poverty, and the overall experience as human beings." But we don't know how closely the film will hew to its original text.
A review from The Verge reveals that the movie opens with a young boy named Mahito after the firebombing of Tokyo during WWII in which he witnessed his mother dying. Mahito and his father then move out of Tokyo with his father's new spouse. That review also called the film "a recognition by Miyazaki of his place as a relic in a modern animation industry that's moved on without him."
But besides that poster and the original text, audiences in America have been left with little to expect, at least visually. Except for now. Studio Ghibli (via Fandango on Twitter, or X, whatever we're supposed to call it now) has finally, finally, released promotional images of the film, and they are absolutely breathtaking. If you want to continue to keep that mystique, don't read any further, but if you are dying to know more about what is potentially Miyazaki's last film, keep on looking.
Luckily, it's hard to tell much more of anything from the plot based on these images. But it's no surprise: they're absolutely gorgeous.
The Boy And The Heron US release date
The Boy And The Heron will come to North American theaters in 2023. Eventually. And if you can't wait, don't forget that right now, you can see Porco Rosso, The Wind Rises, Howl's Moving Castle, and in October, Spirited Away at your local movie theater as a part of Studio Ghibli Fest 2023.