16 Kickass Outdoor Activities to Do With Your Kids This Weekend
From building a bon fire to making a scarecrow, you've got to take advantage of these fall weekends while you can.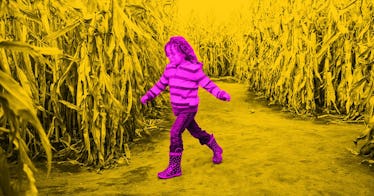 Temps may be dropping and the daylight dwindling, but there are still plenty of ways to have fun with kids outdoors before it's time to bundle up. In fact, fall is the perfect time to be outside ⏤ it's not too hot, it's not too cold, and, after spending all week stuck in a classroom, kids can use a little time to blow off some steam. Seize these fall weekends while you've got 'em. Here are 16 kickass outdoor activities for kids of all ages.
1. Go geocaching
A gigantic outdoor treasure hunt with millions of prize-filled containers hidden around the world, geocaching is a fantastic way to get the family outside, discover new sites in your town, and teach kids about navigation. Just create a free account at geocaching.com, scan the map for geocaches near you, and use your smartphone GPS to search for these hidden treasures using the coordinates provided. Once you discover the cache, sign and date the logbook, and note your score online. It's fine to take the prize in the cache as long as you leave behind something of equal or greater value for the next geocachers to find.
2. Play a parents-versus-kids soccer game
Gather a handful of families and head to your nearest field or park for a friendly game of parents-versus-kids soccer. With children of different ages and abilities and parents of varying levels of fitness and rust, expect lots of laughs and likely a few whiffs ⏤ although probably more so from the parents. To amp up the fun, hand out prizes for best hustle, biggest surprise talent, best team spirit, and of course the winning team ⏤ then enjoy a big potluck meal.
3. Do a family fun run, walk, or ride
Enter a 5K, 3K or even just a 1K run, walk, or bike ride with your whole crew ⏤ bonus if the event is a fundraiser for a charity or organization you support. If it is, you can involve the kids in asking family members and friends for donations ahead of time. The fall run/walk/ride calendar is traditionally packed, so you should have your pick of events without having to travel too far. And if you need any more convincing, here are 7 reasons every parent should run a 5k with their child.
4. Build a backyard bonfire
Whether it's just with your kids or you invite a few neighbors and friends to join, gathering around a backyard bonfire is an awesome way to spend a crisp fall night. You can toast smores, swap scary stories, tell riddles and jokes, or bust out a guitar and get everyone singing along. You can also use the opportunity to teach your kids how to safely build a fire, so they'll be ready for next year's camping trip.
5. Go paddling
Even if you don't have a lake, river, or reservoir in your town, you probably live within a few hours of one. Grab your canoe or kayak, a few sets of paddles, a kid or two, and hit the water. Fall is an excellent time for paddling because there is less traffic on the water and you'll get a great view of autumn leaves. Don't have your own canoe or kayak? Don't worry, plenty of places rent them including REI stores and local YMCAs.
6. Make a scarecrow
Who says only farmers get to make scarecrows? Kids love this fall activity. There are several different ways to assemble a scarecrow and plenty of how-to videos online. Basically, though, you'll need a 6-foot-long 2-by-4 board, a 4-foot 2-by-4 board, old jeans, an old button-down shirt, a burlap sack for his head, gardening gloves, old boots, and of course hay, which you can find at Home Depot or Walmart.
7. Pitch a tent
Fall camping is the best for a number of reasons: there are fewer bugs, fewer campers competing for the best sites, and the cool weather is ideal for sleeping. Head to a nearby state park or wilderness area, or even throw up a tent in your backyard. Kids will love the experience of sleeping outdoors, no matter how far you are from home. Also, here's the easiest way to teach them how to pitch a tent.
8. Rake — and jump in — leaves
Here's a sneaky way to solicit some help with the autumn yard work. Pass out rakes to the kids and have them gather leaves into piles, promising them they can jump till their hearts are content once the family has amassed enough piles. Sure, their jumping will scatter the piles a bit, but it won't take long to touch them up and bag them. Bonus: Raking is a great workout for everyone and should tucker the kids right out. Or, if you want to turn it into a competitive game, Leafbag Football is a ton of fun.
9. Build a giant Jenga set in the backyard
To build a giant Jenga set, you'll need a piece of plyboard to make the base, plus enough 2-by-4s for 54 game pieces. And whether you cut them yourself, or ask the hardware store to do it, you'll definitely want the kids to help paint the pieces. So spread some newspaper out on the patio or in the yard, set them up with a few different paint colors and brushes, and let them go to town.
10. Navigate a corn maze
Corn mazes are everywhere come fall (well, everywhere they grow corn), and they make for a fun, active afternoon with the fam. To find one near you, hit Corn Mazes America's website and search by your state.
11. Plan a neighborhood scavenger hunt
Plan a weekend scavenger hunt for all the kids in the neighborhood. Set boundaries to keep the hunters contained and go out the night before with other parents to hide small, cheap objects in and around the participating yards and houses. Make the hunt as easy or as challenging as you want, depending on kids' ages. Then on the big day, dole out lists of every item the children need to find and set them loose.
12. Hit up an archery range
Axe throwing may be the activity du jour but archery is still a lot of fun, even if you haven't picked up a bow since 7th-grade summer camp. There are a lot of outdoor archery ranges connected to pro shops that rent bows and arrows and offer one-on-one instructions to beginners. Who knows? Archery could be something your kid really takes to ⏤ next stop, the Olympics.
13. Soar in a hot air balloon If a hot air balloon ride is on your bucket list, fall is the time of year to cross it off. Not only will you give the kids an experience they'll never forget, but you'll get a dynamite view of the changing fall leaves.
14. Go disc golfing
Whether you've been an avid frolfer (frisbee golfer) for years or never tried the sport, it's a nice family activity because it involves a lot of walking outside and anyone can learn how to do play well enough to enjoy pretty quickly (getting good, however, takes time and practice). Upper-elementary and middle school–age kids can play with you, while younger ones can tag along and toss a few discs as they please ⏤ or ride in a stroller. There are thousands of courses scattered across the U.S and you can find one using this disc golf directory.
15. Volunteer at a park
City, county, and state parks, trails, and wilderness areas often hold special days where volunteers help round up invasive species, collect trash, paint fences, and do other tasks to keep these spaces clean and thriving. Participating in one of these events is a great way to teach kids the importance of volunteer work and protecting our natural world while enjoying a fall day outside.
16. Stargaze
Sure, you could look at a night-sky app on your phone but kids will enjoy it more if you buy a real star chart and learn which constellations are visible in your area this time of year. Then after dinner on Friday or Saturday, pack up a bunch of blankets and a thermos of hot chocolate and drive to a spot far enough away from the city lights to give you a clear view of the sky. Your kids will be stoked about the nighttime road trip alone, but they'll really love trying to locate each celestial body ⏤ not to mention any shooting stars that might pass by.