Exclusive: Jack Black Is Back In Kung Fu Panda: The Dragon Knight Season 2
The hilarious Netflix series returns, and we've got an exclusive look.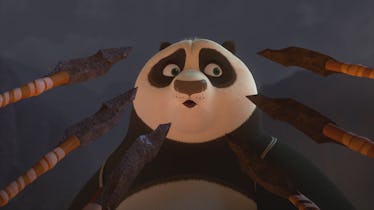 Netflix
There are few kids' franchises as reliably funny as Kung Fu Panda. What began as a silly movie in 2008, has expanded into an enduring phenomenon. For 5+ kids who love action and lots of slapstick comedy, you can't really go wrong with any version of Kung Fu Panda. And there's pretty much one reason: Jack Black is still the voice of Po the Panda.
The most recent incarnation is Season 2 of the series Kung Fu Panda: The Dragon Knight. The entire season just dropped on Netflix on January 12, 2022, and Fatherly has an exclusive clip to give you an idea of what's in store. And yes, if you're keeping track this is the third TV series spin-off, following four feature films, four short films, and two previous TV shows.
However, you don't need to know any of that to get into this show with your kids. That said Dragon Knight is a direct sequel to Kung Fu Panda 3, and the series, The Paws of Destiny. So, if you wanted to watch those before getting into Dragon Knight, you can! But, all Kung Fu Pandas are funny enough that you won't be too lost.
Here's the exclusive clip from Dragon Knight Season 2 as Po (Jack Black) finds himself in India.
Kung Fu Panda streaming
All versions of Kung Fu Panda are streaming on Netflix. Season 2 of Kung Fun Panda: The Dragon Knight is streaming right here.