Jack Black TikTok Quarantine Dance Is Peak 2020
Thank god for Jack Black.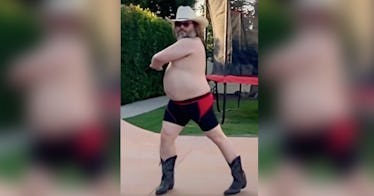 A handful of weeks ago, when Gal Gadot and a group of celebrities joined together to sing "Imagine" inside their beautiful mansions, the online public reacted with derision and accusations of tone-deafness. After all, there's a pandemic going on. Enter Jack Black to save us all.
Many people wondered why these wealthy people, in good health and with great financial stability, didn't spend their time organizing charity donations or donating some of their personal wealth to help workers on the front line like UPS drivers, doctors and nurses, and grocery store employees. But one celebrity has come out with his own dance video — and it works. That celebrity is, of course, Jack Black.
Jack Black, best known for the all-time classic School of Rock, Nacho Libre, and more early-aught classics, as well as his membership in Tenacious D, just joined TikTok. While that's hardly news, his first TikTok video is marvelous. And it's also peak 2020. Few Americans began the year thinking that one of our main sources of entertainment in the year 2020 would be online jokes riffing on quarantine and social distancing. But here we are. And we might as well laugh.
When Jack Black dances to EDM music in a pair of tight-fitting athletic shorts, cowboy boots, a cowboy hat, sunglasses, and nothing else, you know that magic has been made. The dance, which is sure to establish an all-out dance challenge, many of which already populate TikTok constantly. Hopefully, the Jack Black Challenge will catch on and become the next viral celebrity trend — but not an annoying one.
This article was originally published on