A New 'Kung Fu Panda' Series is Coming to Amazon
The popular Dreamworks film franchise will make the jump to the small screen later this year.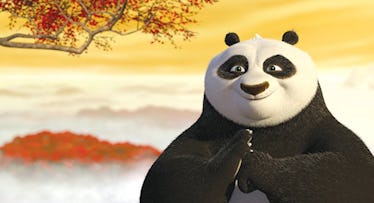 Dreamworks
A new Kung Fu Panda show is coming to Amazon Prime Video later this year, according to an announcement from Dreamworks Animation Television. The new series, titled Paws of Destiny, will follow Po (voiced by Jack Black in the films) and four panda kids as they explore a mysterious cave beneath Panda Village. It will no doubt be filled with all sorts of fun adventures and hilarious mishaps.
It's not yet clear when exactly in 2018 the show will air, or whether or not Black will be involved in the production. "But if you're a fan of the Kung Fu Panda films," a Dreamworks representative told Popsugar, "you are going to love the series."
This is not the first time that Dreamworks has transitioned a popular movie into a TV show, as Madagascar, How to Train Your Dragon, and Puss in Boots have all successfully made the jump from the big screen. Even Kung Fu Panda himself has made the switch to TV, as Kung Fu Panda: Legends of Awesomeness aired for three seasons on Nickelodeon and Nick Jr. Dreamworks is hoping that Paws of Destiny will replicate past success and become a hit with families.
Kung Fu Panda has been one of the most popular kid's movie franchises of this century and the three films have combined to make nearly $2 billion worldwide over the last decade. They have also been a hit with critics and kids, with all three movies scoring approval ratings above 80 on Rotten Tomatoes.