Disney's Newest Kid-Friendly Ticket Deals Could Save Families Hundreds Of Dollars
Huge savings for parents who want to visit the park in the new year.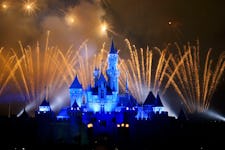 MN Chan/Getty Images News/Getty Images
If you've been wanting to plan a Disney vacation, but are gobsmacked at just how much it might cost to do so, we have some helpful news: Disney has announced a new limited-time special ticket option that will likely make visiting Disney way more affordable for families. The special ticket offer can be used early in the new year and potentially save families big bucks.
Beginning October 24th, 2023, admission tickets for kids under 10 years old to Disneyland Resort theme park — yes, Disneyland, not Disney World — can be purchased for as low as $50 per child per day. The new ticket offer, announced by Disney Parks, can be used for kids between the ages of 3-9 in the new year.
That's potentially huge savings: a single-day Theme Park day ticket for kids can range anywhere from $110 to $195, depending on the day, per Orlando Parks Guy. You could be saving anywhere from $50 to $145 on your tickets (per day!) for your little ones if you get the cheapest possible tickets.
However — and this is a big however — a $50 kids' ticket will only allow you a 1-day Park ticket for one park. You can't use that same ticket to visit Disneyland and Disney California Adventure Park on the same day unless you buy a Park Hopper ticket for an additional cost.
You will, however, be able to use this deal to buy 1, 2- or 3-day park tickets and visit the parks you want to see on separate days. How much you'll save will be revealed later: Disney Parks says more details on the special kids' ticket price options will be available on October 24th, including the exact costs of upgrading the tickets for multi-day or multi-park use.
"Tickets are valid for use beginning Jan. 8, 2024, and expire 13 days after the first day of use or on Mar. 10, 2024, whichever occurs first," the company explains.
But wait, there's more! If Disneyland is less your thing, or if a winter vacation is out of the cards, the company announced the introduction of a special package offer for families planning a spring vacation at Walt Disney World in Orlando, Florida. Theme park tickets and dining plans for kids (again, between the ages of 3-9) will be 50% off when you purchase a 4-night, 4-day Walt Disney Travel Co. package that includes a stay at a Disney Resort hotel.
This new package option will be available to purchase on November 14th, 2023, and will be valid for most nights between March 3rd and June 30th, 2024. "This will be a great option for those who also want the convenience of having their tickets, room, and meals already paid for before they arrive," Disney Parks explains.
These new ticket offers come after the company announced updates to make planning trips to Walt Disney World and Disneyland easier and more simple. In that announcement, the company explained they would be getting rid of theme park reservations for date-based tickets, reintroducing dining plans, and fixing the beleaguered Disney Genie+ system. Those new changes haven't come into effect yet, but Disney said they will start on or after January 9th, 2024.
If you and the family are planning a trip to any of the Disney Parks, check out our essential tips, tricks, and hacks to make your planning and visit more affordable and fun.