Deleting Disney Plus? Here's What You Can And Can't Get On Blu-ray Or Digital
Fed-up with skyrocketing streaming costs? Here are your analog options.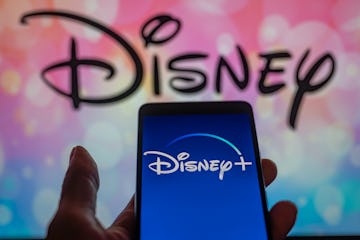 NurPhoto/NurPhoto/Getty Images
It's no secret that streaming services are getting more and more expensive. And, even as monthly costs go up, many streamers — including Disney+ — are also introducing an uptick of ads that will interrupt the show you're watching, just like commercials of old, but arguably, worse. Amid drastic cost-cutting measures, and in an effort to turn a profit, Disney+ is increasing the monthly cost of maintaining an ad-free account by nearly 30 percent in October 2023. What cost families $6.99 in 2019 — the experience of watching anything in the Disney+ catalog free of ads — will now cost $13.99 per month.
Naturally, there's been significant outcry online, including a good number of people claiming they will simply delete their Disney+ subscriptions in protest of the higher costs, and also, a crackdown on password sharing. Whether or not a mass exodus will actually happen isn't clear. And for families, getting rid of Disney+ is a tricky proposition. There are a lot of shows and movies that families rely on to keep their kids occupied or enjoy together for quality shared screen time.
So, can families safely delete Disney+ and still find alternate ways of watching all of the same stuff? The answer is yes and no. Here's how it shakes out.
Most Disney movies are still on Blu-ray, DVD, or digital
If you're worried about not being able to watch The Aristocats or Frozen II after deleting Disney+, don't worry. Unlike the old days, the vast majority of Disney feature films, from the days of Snow White to Raya the Last Dragon, are all available on home video. In 2023 that means DVD, Blu-ray, or digital purchases. So, if you don't want to buy the physical Blu-ray of the Disney Robin Hood with the foxes, you can just buy it outright on Amazon or Apple. If you've paired your Apple or Amazon Prime accounts with Movies Anywhere, you'll be able to watch all your purchased digital movies in one spot.
So, if you really only use Disney+ for its deep library catalog of movies — from the classics to the obscure — you can mostly find what you need with physical media or digital purchases from other retailers. If you're looking to stockpile some Disney movie Blu-rays and DVDs on the cheap, eBay is a wonderful option, where you can get some great movies for as little as $1.99. Of course, the advantage of buying movies on DVD and Blu-ray is that they never are going to vanish overnight, and you don't have to you know, keep paying for a movie every month.
Original Disney+ shows are not available outside of Disney+
Since 2019, Disney has, not once, never ever, released any of their original TV series on Blu-ray or DVD. Nor can you buy individual episodes of The Mandalorian or WandaVision or anything else that has debuted exclusively on Disney+. This also applies to Disney+ exclusive movies, like the 2019 live-action remake of Lady and the Tramp. Here's an incomplete list of things you 100 percent can only watch on Disney+, and cannot get on any other medium, at all.
The Mandalorian
The Book of Boba Fett
WandaVision
Loki
The Falcon and the Winter Soldier
Ms. Marvel
Secret Invasion
Obi-Wan Kenobi
Star Wars: Visions
Andor
Hawkeye
What If?
Ahsoka
Young Jedi Adventures
Notably, if your kid is really into any of these shows, and you want to figure out a way of owning those shows to avoid said programs from disappearing into the digital ether: you can't. Earlier this year, Disney+ yanked great family shows like Willow and The Mysterious Benedict Society from the service, which means there is simply no way to watch those shows until they either resurface somewhere else, or Disney decides to pony up for a physical Blu-ray/DVD release.
What about other Disney shows on Disney+?
Interestingly, Disney shows that predate Disney+ — like kid-favorite Doc McStuffins — can be purchased and watched outside of Disney+. Amazon has a bunch of Doc McStuffins available for purchase as well as Vampirina. And although Bluey exists as a Disney+ show, it is not a Disney original at all and is produced in Australia and merely distributed by Disney. Therefore, you can watch Bluey outside of Disney+ with digital purchases on Amazon and elsewhere. There's also a decent smattering of Bluey DVDs on eBay, though these won't include all the latest episodes.
So, families can certainly exit the Disney+ club if they want. But, if there are some Disney+ things you or your kids still want to watch, it seems, that for now, Disney has a plan for pulling you back in.