Why The New Captain Kirk Is So Much Like James Bond
What do the long-running secret agent and the daring starship captain have in common?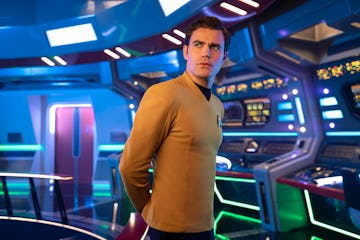 Paramount+
Old-school TV leading men don't get much more classic than Captain Kirk. But, up until very recently, there have only been two guys that have played the part of the famous Star Trek leading man; William Shatner and Chris Pine. But now, all of that has changed. Although he first beamed onto TV screens in a small role in Star Trek: Strange New Worlds in 2022, 40-year-old Paul Wesley is back as James T. Kirk in a big way in 2023. And it would seem, that Wesley is here to stay as Kirk, at least for the time being. And, because he's the third man to play Captain Kirk, has the character become like James Bond — meaning, is Kirk now the kind of character who could be played by multiple actors for generations to come?
"There's something that happens with Bond, which also happens with us [Star Trek]. When you start with a new Bond, he's often younger," Strange New Worlds co-showrunner Akiva Goldsman tells Fatherly. "Sean Connery in Never Say Never Again is an outlier. But, with Strange New Worlds, is a prequel to the original Star Trek, so fundamentally we're gifted with [the characters] younger, and therefore in a different developmental phase."
Goldsman points out then, that a James Bond analogy relative to Captain Kirk "isn't wrong," but that the essential difference with Paul Wesley's new Kirk in Strange New Worlds is that the show is a prequel, not a reboot like Daniel Craig in the 2006 film version of Casino Royale.
"What you're touching on, is that we're sort of taking the character as written and we get to then interpret them in a way that hasn't widely been interpreted on screen."
Henry Alonso Myers, the other showrunner of Strange New Worlds adds that the time period of the show creates a "free play period," because it's a time before the classic Trek show. "We can explore the characters as human beings. And we can explore them in any way we want."
This doesn't mean that Paul Wesley's Kirk is a total departure from the character of Captain Kirk we all know. In Strange New Worlds season 2, he makes his first big appearance in the third episode, "Tomorrow and Tomorrow and Tomorrow," which is a time travel romp in the tradition of the classic show, but with almost a rom-com twist. As Paul Wesley recently revealed, he wasn't trying to completely reinvent the concept of Kirk. Yes, he's playing Kirk more down-to-Earth than Shatner and Pine, but his approach to the part is meant to evoke cozy, happy feelings. "I did want [to play] the Kirk we know: that fun, jovial, having-a-good-time guy," Wesley said. "But also, the man who does the right thing and is the hero."
Star Trek: Strange New Worlds streams on Paramount+.