The English Dub Voice Cast For The Boy And The Heron Is Absolutely Stacked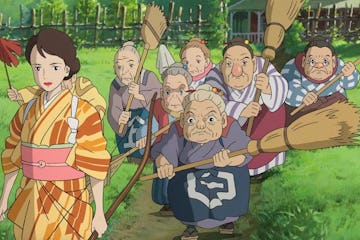 Studio Ghibli
Hayao Miyazaki's latest (but not last!) animated film, The Boy and the Heron, is just months away from hitting American theaters. And now we finally know who will voice the English dub of the film — a particularly important piece of info for parents of big kids who might not want to read subtitles to follow along with Miyazaki's latest masterpiece.
And best of all: the cast is absolutely stacked with stars you know and love. One of the stars dubbing this film lent their voice to Miyazaki English dubs in the past. Christian Bale, for example, famously portrayed Howl in Howl's Moving Castle.
While it's great to hear a familiar voice, there are plenty of newcomers to Miyazaki on this list — Robert Pattinson being one of them. And far from the trend of celebrity actors just doing voice work, there are real pros on the list. Mark Hamill does a ton of voice-acting work — who can forget him as the Fire Lord Ozai in Avatar: The Last Airbender and as the Joker in the animated Batman: The Animated Series?
The full cast features Christian Bale as Shoichi Maki, Mahito's father, Dave Bautista as the Parakeet King, Gemma Chan as Shoichi's second wife, Natsuko, Karen Fukuhara as Lady Himi, Willem Dafoe as the Noble Pelican, Mark Hamill as the Granduncle, Robert Pattinson as The Gray Heron, Florence Pugh as Kiriko, Luca Padovan as protagonist Mahito Maki, and Mamoudou Athie, Tony Revolori, and Dan Stevens as "weapon-handy warrior Parakeets," per Empire Online.
While Luca Padovan will voice the protagonist, the name of Pattinson's character alone suggests that he'll be the Heron to Padovan's The Boy, as it were, but only time will tell. The film debuted with very little promotion in mid-July in Japan. American audiences got a few more hints as to what the movie will be about: a few promotional stills, a trailer, and advanced reviews, and is at least somewhat based on a 1937 Japanese novel titled How Do You Live? (Incidentally, that's also the name of the movie in Japan.)
And for those of you who are subtitle fans only — in other words, only want to view the Japanese-language, English-subtitled version — don't worry. Both versions will debut in the theater. Just make sure you know which ticket you're buying, especially if you're going to see the movie with a beginner reader.
The Boy And The Heron hits theaters across the U.S. on December 8, 2023. If you're trying to get your kid into Miyazaki before the movie comes out, check out our handy list of the best order to watch every Miyazaki movie with your kids.