Bluey Just Crossed Into The MCU Thanks To This Actor
Is this Marvel superhero's secret identity being a part of the Heeler family?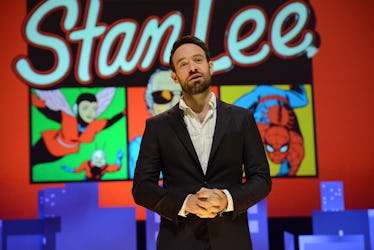 Lorenzo Bevilaqua/Disney General Entertainment Content/Getty Images
Bluey truly is for everyone, whether you're a kid or an adult. As the Australian cartoon about a family of Blue Heeler dogs continues to rise in popularity among an expansive fanbase of different ages, more unexpected names are standing up to say how much they love the show, too. It's one thing to watch the toon, it's another to dress up in public as it, and this actor from the Marvel Cinematic Universe just took things to another level.
During New York Comic Con 2023, Daredevil star Charlie Cox swapped his red spandex for blue pajamas, and was seen wandering the showroom as Bluey- or at least his own take on the Heelers' appearance. Complete with a set of ears atop his head, Cox wore a fluffy blue onesie (complete with tail) and a yellow Arsenal football jersey on top. His face and neck were covered in two-toned blue makeup, with a dab of black and beige to give him a proper dog nose.
For those who have never been to a comic con before, cosplay is one of the clever ways celebrities have walked the halls and not been pounced on by attendees for autographs. In Charlie's case, hardly anyone realized they were snapping pics of an MCU regular because they were so keen on finding someone representing Bluey!
Twitter user K_Hicky ran into the cosplayer on the show floor, but had no idea until later who was underneath the makeup, writing:
APPARENTLY, I MET CHARLIE COX AT NYCC TODAY??!?!??!! I just thought he was a dumb guy dressed up as Bluey and asked to take his picture. I'm shook right now, I can't believe I met him
TikTok user Hailee97 was another person lucky enough to get a pic with Charlie, and explained the entire surprising encounter on her social media page. Hailee had an edge on other NYCC attendees, being a hardcore Daredevil fan who came dressed as a Frank Miller-style Elektra. This cosplayer was among the first to figure out who was under the makeup:
"I was going down an escalator when I heard somebody call out for Elektra, to which I turned around and tried to see who shouted out to me so I could acknowledge their existence. At this point, I didn't know it was Charlie waving, so I just see him waving at me. And I'm getting a better look at this person's face, and as I'm waving at them, my entire face just changes when I realize it's Charlie, and Charlie starts dying laughing!"
As Hailee chatted with Charlie and his handler (there to keep him safe in case his secret identity was revealed too soon), she learned more people were recognizing him as Bluey than the actor. This certainly had to be a highlight for Cox, who enjoyed a day of anonymity at the con, while still meeting like-minded folks who wanted to enjoy the show and temporarily live as the characters they love to watch or read.
Charlie donned the Daredevil duds most recently in Disney+'s She-Hulk series, but MCU fans haven't seen much of him since the Netflix series concluded in 2018, outside of a quick appearance in 2021's Spider-Man: No Way Home. Cox is set to return to the franchise in a big way, reprising Matt Murdock and his alter ego in two upcoming series, Echo and Daredevil: Born Again, both scheduled for a 2024 release.
Cox, who's also a father of two young children, isn't the first celebrity to publicly share their reverence for Bluey, and he certainly won't be the last. Lin-Manuel Miranda told the press how Bluey became a family favorite in their household, leading the Hamilton creator to become one of the first American celebs to do a guest voiceover on an episode. At a WWE event back in March, wrestler Johnny Gargano competed in Bluey-inspired gear in honor of his young daughter.
Seeing Charlie having fun as Bluey has only made fans of the show hungrier for more of the Heelers. More episodes are coming, and might even drop serendipitously around the same time as Daredevil: Born Again shows up on Disney+ for their series debut. Does anyone else smell a crossover?
Bluey is available to stream on Disney+.