Where To Stream Michelle Yeoh's 5 Best Movies For Date Night
Stream the Oscar-winning powerhouse, everywhere, all at once.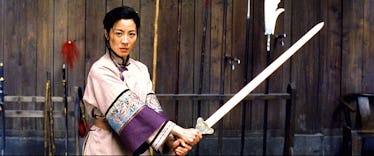 Sony/Columbia
Michelle Yeoh has just made history as the first Asian woman to win an Oscar for best actress in the excellent Daniel Kwan and Daniel Scheinert film Everything Everywhere All At Once. For those of us who love Michelle Yeoh, this is great, but also well-deserved. Yeoh has been charming and thrilling us for decades with her excellent performances on film and on TV.
In fact, for parents of a certain age, Yeoh is an inspiration: proof that exciting careers and coolness extend way beyond your 20s, 30s, or 40s. At 60 years old, everyone should try to channel their inner Michelle Yeoh, even if a little bit. If you're looking for some great entertainment to watch after hours while the kids are asleep, here's the best of Michelle Yeoh, plus where to watch her best performances.
5. Tomorrow Never Dies
In 1997, the second Pierce Brosnan James Bond movie was almost a rom-com. However, at the time, Michelle Yeoh's Wai-Lin was easily the coolest female counterpart to 007 of all time. Because the '90s are now embarrassingly retro, and because some dads love older James Bond movies, you might think this one might be a hard sell for date night. But what makes this movie work is Michelle Yeoh, who really, should have been given her own spinoff movie way back then.
Stream Tomorrow Never Dies on HBO Max.
4. Crazy Rich Asians
Like Everything Everywhere All At Once, the 2018 comedy Crazy Rich Asians, is, in a way, an inter-generational comedy. As Eleanor Sung-Young, Michelle Yeoh is not the lead of this movie, but without her dominating presence, most of the comedy — and commentary — just wouldn't work. Like most movies she's in, Yeoh steals the show here.
Rent Crazy Rich Asians on Amazon Prime Video here.
3. Star Trek: Discovery
Okay, so this isn't a movie, but if you're looking for where Michelle Yeoh has been kicking the most ass in the past five years, it's on Star Trek: Discovery. And, like Everything All At Once, Yeoh's roles in Discovery also involve the multiverse. In Season 1, she plays two roles: Captain Georgiou and Emperor Georgiou. One is a heroic starship captain, and the other one is the ruler of the wicked Mirror Universe. But, which one will you end up loving? The answer may surprise you.
Stream Star Trek: Discovery on Paramount+.
2. Crouching Tiger, Hidden Dragon
A legitimate classic, this 2000 film took our breath away with its daring and magical visuals. But, the heart and soul of the movie was Yeoh as Yu Shu Lien. A romantic movie, with beautiful cinematography, full of adventure and action. What more could you honestly want?
Stream Crouching Tiger, Hidden Dragon on Pluto TV.
1. Everything Everywhere All At Once
The movie of the moment, and the first true science fiction film to win an Academy Award for Best Picture, the reason why this film works is probably that it's about a grown-up. So many high-concept movies like this tend to focus on younger actors as the lead going on the adventure. By making a multiverse adventure all about an older mom, Evelyn Quan Wang, the movie feels more grounded, and crucially, about more than just its high-concept trappings. A hilarious movie that also has something to say about how the generations talk to each other, Everything Everywhere All At Once, deserves all the praise it gets. And so does Michelle Yeoh.
Stream Everything Everywhere All At Once with the Paramount+ and Showtime bundle.