Kenneth Mitchell on His Latest 'Star Trek' Role and Parenting With ALS
He's Captain Marvel's dad, and a 'Star Trek: Discovery' badass several times over. But, in real life, Ken Mitchell is fighting the most important battle of all.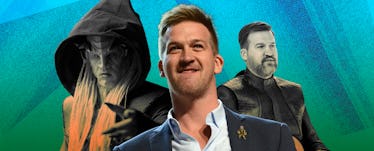 CBS/Viacom;Getty
From 2017 to 2019, Kenneth Mitchell played three formidable Klingons on the TV series Star Trek: Discovery. Pivotally, in a 2019 Season 2 episode, his character, Tenavik, showed Captain Pike (Anson Mount) a glimpse into a future in which the brave starship captain would end his life without the use of his body. In a cruel twist of fate, around the time that Mitchell filmed those scenes, he faced an eerily similar personal crisis: In 2018, he was diagnosed with ALS, a neurodegenerative disease that affects nerve cells in the brain and spinal cord, eventually robbing most sufferers of their most basic mobility. In 2019, he appeared as Carol Danver's father in the Marvel movie Captain Marvel, carrying the future galaxy-saving superhero on his shoulders, but, by early 2020, Mitchell was no longer able to walk unassisted. Now the 46-year-old actor — and parent of one teenage daughter and one school-aged son — grapples with how to continue to be a dad, actor, and artistically honest man, without the use of his legs.
"It's been incredibly challenging when you add the pandemic to the illness and then parenting on top of that," Mitchell tells me. "I continue to decline physically, and I find for me that's really hard because that was a big connection I had with my kids; being able to play with them and wrestle and do sports, and hug them with my arms. And when that is taken away from you it is really sad. But it's all about adapting. Finding new ways to hug your kids. New ways to interact with them. New ways to connect with them given the challenges I have."
Mitchell expects to rise to those challenges, following the footsteps of ALS sufferers such as Stephen Hawking and Lou Gehrig (ALS' original namesake). Mitchell is not looking to find the hidden radiation in the universe or to continue hitting home runs: For him, rising to the challenge means being there for his kids, and, acting. When he filmed Discovery's just-aired Season 3 back in January 2020, Mitchell wasn't able to walk, but he was adamant that he wanted to work as much as possible.
"I let the [Star Trek: Discovery] production team know I was always interested in working and seeking inspiration, given my illness. And so they found an opportunity for me and adapted the part to suit my needs," he says. "And in doing so it became more meaningful than your typical role."
In the Discovery Season 3 finale Mitchell wasn't under any Klingon makeup, but instead, played a human scientist named Aurellio. Initially presented as a kind of mad genius working for the villainous outer space mafia known as the Emerald Chain, we eventually learn that Aurellio is a father, simply fighting to protect his family. Mitchell tells me that playing fathers isn't something he sought out, but that in some ways, it lets him get closer to the part. Whether it's papa Danvers or Aurellio on Discovery, Mitchell thinks playing dads is "more truthful," than other roles.
"I'm not gonna use the word 'easier,' but it makes it meaningful and you're more connected to it. I draw upon my life experiences as much as I can, I think most actors do. It's the most beneficial thing that we can bring to our part."
His kids are doing fine. Part of that is because, Mitchell admits, during the pandemic he has "spoiled" his children. "They deserve it. They've been cooped up for almost a year now. I feel for them. It's beneficial for me to be around them more, but the kids need interaction with other kids. And it's been really tough. We have adapted as much as we can. We got my son a skateboard ramp for his birthday, just to give him another activity."
Mitchell tells me that his support group starts with his wife and kids, but also includes several of his Star Trek co-stars, who regularly have his back. One regular family visitor is Ethan Peck — Star Trek's incumbent Mr. Spock — who often skateboards with Mitchell's son, and has been given the family nickname "Tony Spock," in honor of skateboarding legend Tony Hawk. In addition to visits from Peck, and fellow Klingon actor Mary Chieffo "bringing some sunshine," Mitchell also stays in touch with the original Captain Kirk.
"Just the other day William Shatner sent me a handwritten card," he tells me. "I thought that was really special. I thought that was incredibly meaningful."
And it's on this point, what fathers can do with their hands, that Mitchell has a powerful message for dads everywhere. When I ask him what he would tell his younger self about the future, he doesn't hesitate. "Maybe you should take some time each day or each week or once a year, write your kids a letter," he says.
"I miss being able to use my hands and they're an extension of your heart and I always value the hand-written note," he adds. "I think it shows someone that you've taken the time more than talking on the phone or a text. And I wish I was able to do that more for them now. In light of my illness that bond with my kids has only grown. But I wish I'd written them more."
Star Trek: Discovery Season 3 is streaming on CBS All-Access (soon to become Paramount+). Ken Mitchell appears in the final two episodes of the season.